HT Facebook Blocker - How It Works
1. Installation
Install HT Facebook Blocker on those computers where you want to block or limit Facebook.
The process of installation is very simple. During installation, you can choose the program location and hide /display the program icons.

After installation, HT Facebook Blocker works in the background and runs on Windows start-up if you do not change the Autorun settings.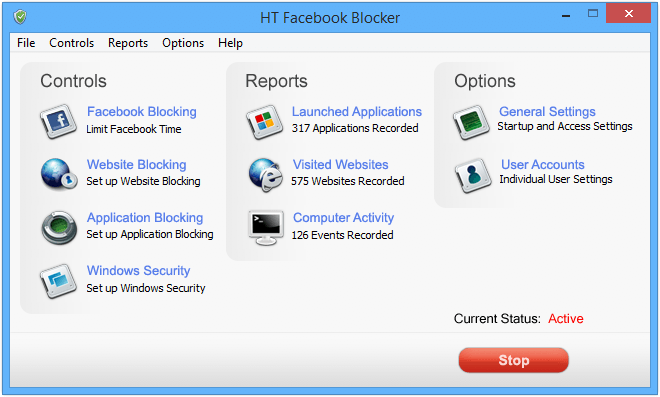 2. Configuration
How to Block or Limit Facebook with HT Facebook Blocker
Open the program after the installation.
Click Facebook Blocking.
Click on Facebook and select block or limit.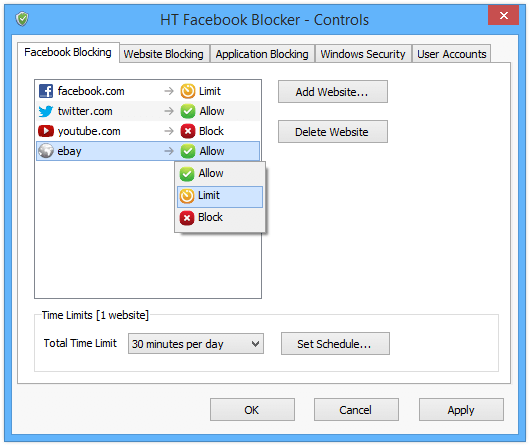 Block means that the website will be blocked completely by HT Facebook Blocker and users cannot access it and associated pages.
Limit means that the website may be accessed based on your settings. For example, limited by a schedule or by the amount of time users can spend on it.
If you want to unblock the website, you can do it without changing settings. Just open Facebook Blocker and click the Stop button on the main window.
How to Block Other Sites
The program allows you to block or limit any website by URLs or keywords.
Add to the list any sites you want to control access to.
Select the Block or Limit status for each added sites.
Specify how much time a day users can spent on websites marked as limited.
Set up the Schedule for limited websites if necessary.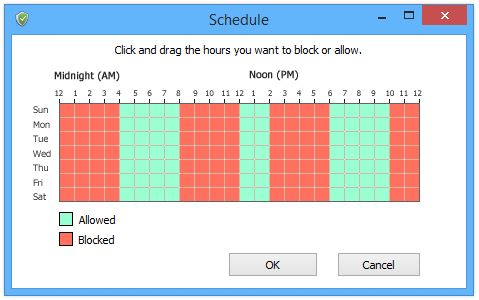 How to Block Applications with HT Facebook Blocker
With HT Facebook Blocker you can block any applications installed on the computer.
Open HT Facebook Blocker and click Application Blocking.
Select from the list the apps you wish to block or add the exe files to the list of blocked applications.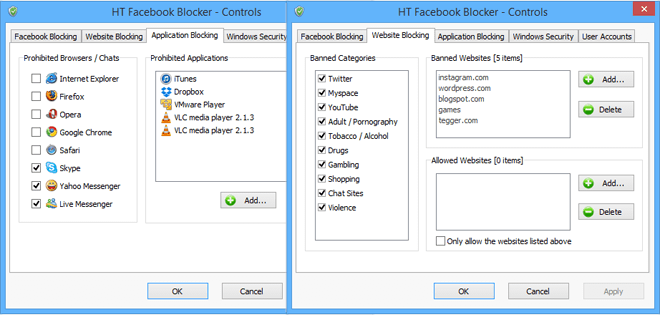 This feature is extremely useful to block time wasting applications such as games or IM.
How to Disable Access to Important Windows Options
The Windows Security feature lets you restrict access to important windows features. This will protect your OS from an incompetent computer user and will help protect the program against bypassing with the aim to remove restrictions.
Open the program and click Windows Security.
Select the checkboxes with the names of Windows options you wait to block.
HT Facebook Blocker can restrict access to Task Manager, Control Panel, Registry Editor and more.
3. Monitoring Features
Blocking and limiting features is only a part of HT Facebook Blocker. Monitoring features shows you what websites and applications were used and how much time was spent on them. This helps to evaluate computer activity and identify unproductive work time.
HT Facebook Blocker provides reports of Visited Websites, Launched Applications and Computer Time.
Try HT Facebook Blocker now to block unwanted activities, improve productivity and protect users.
Program Information
Version: HT Facebook Blocker 6
Size: 6.37 MB
Last Update: 05/17/2017
Interface Language: English
Operation Systems: Windows 10, Windows 8, Windows 7, Vista, XP
Supported Languages: The program support all languages. Blocked URLs, keywords and logs can be in any language.
Supported Browsers: Google Chrome, Microsoft Edge, Mozilla Firefox, Internet Explorer and Opera.
Our Customers Say
After a long search I came across Facebook Blocker. I hesitated for a while, but then decided to try it. The program was purchased but the price was a pleasant surprise, a one-time purchase price. Efficiency is huge, plus a high level of integration into browsers, constant updates, the ability to block everything. Now I'm sure that no matter what browser I would use, I do not see inappropriate content! My advice is to install it. - Constantinos Nicolaides
I have used the program for a long time, both at work and at home. I switched to Windows 8, the program worked fine there. I think that these days, when much time is spent on the Internet, people watch movies, listen to music and generally visit a lot of sites, Facebook Blocker should be in every PC. - Sophie Tanner
Perhaps this is the most suitable program for those who need a computer for work. I use it during studies and exams and it helps me. This is must have soft. - Joe Bell
Purchasing Information
Payment: One time purchase
Annual Fees: No
Updates / Upgrades: Free
Volume Discounts: Yes
Region: Worldwide
Delivery: Electronic Delivery
Money Back Policy: 30 Day Money Back Guarantee