How to Block Skype
If you are a system administrator at the office, school or college, then you should be looking for a way to block Skype on computers. We want to show you how to block skype and avoid problems associated with this.
Those who have been trying to block Skype know that this is no easy task. Its developers warn administrators against attempts to identify and block its traffic. Such as: "Anyway, you will not succeed!". Indeed, its traffic is very difficult to recognize.
Such methods of blocking as:
Block all unused ports for outgoing traffic
Create lists of devices and applications that are allowed to transmit outgoing traffic
Control SSL traffic through Web-gateway
are often inefficient and time consuming, and, in some cases, can even harm other programs and not block Skype.
The best way is to use special software such as HT System Administrator that lets you block skype easily and effectively and has many advantages.
Learn More about HT System Administrator
How to block Skype using HT System Administrator
Download and install HT System Administrator.
Click the Application Blocking button.
Select the Skype checkbox and click OK.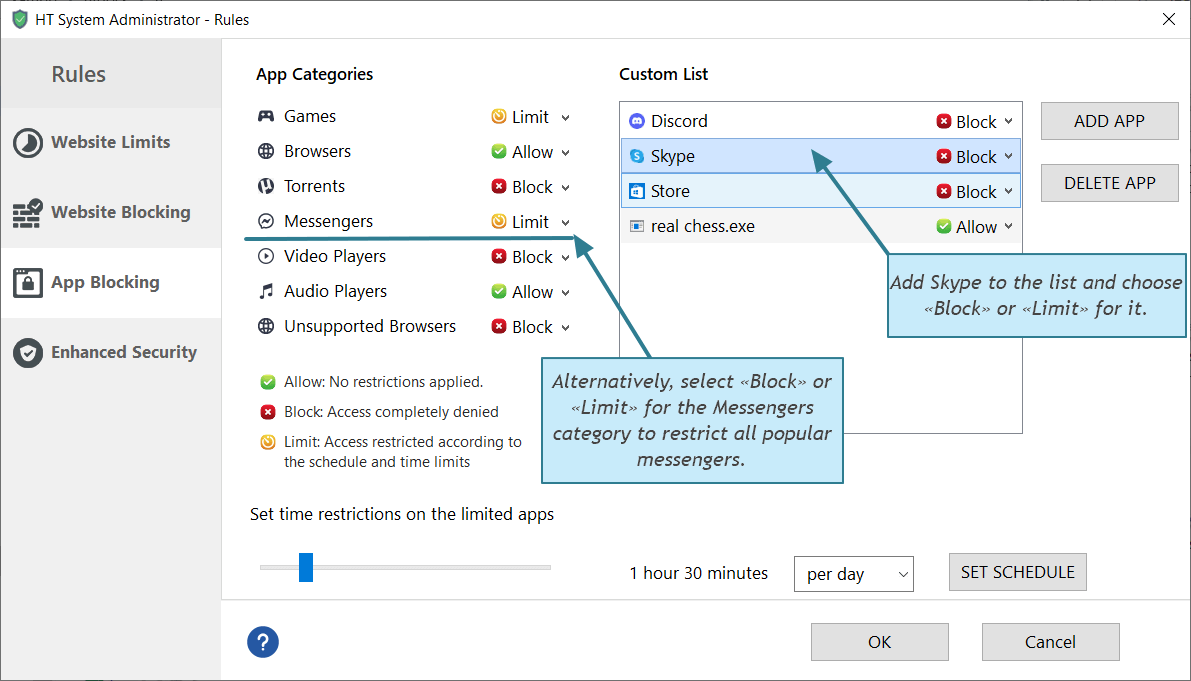 HT System Administrator uses a different approach to block Skype. It prevents the applications run on computers and blocks its execution on the workstations. The program does not require the creation of whitelists. All you need is to specify that Skype has to be blocked. At the same time you have the option to ban it for certain users and allow it for others.
Attempts to reinstall Skype, rename its files and change the folders will not help run the program.
Why to Block Skype
Skype app can bring as benefit as have a negative impact on the level of security.
Firstly, with it you don't have the ability to control content. This means that viruses can sneak into the corporate network and have access to confidential information.
Secondly, voice and video calls can not be recorded, you even can keep call log. It makes Skype unusable for the organizations that require it.
Organizations should decide whether the benefits of using Skype override these drawbacks. In some cases, the application should be allowed only for certain employees.
HT System Administrator will help you to block Skype. It combines effective blocking features and can restrict any users' activity. It allows you to:
Block skype as well as any other applications
Instant messengers, browsers, games, and so on
Block twitter, facebook, myspace and other social networks in the most popular browsers
Firefox, Internet Explorer, Google Chrome, etc
Block specific websites by URL
Block specific websites by keywords
Block websites by categories
Adult Content, Gambling, Violence, Alcohol, Drugs, etc
Block Windows options
Task Manager, Control Panel, etc
Monitor important users' activities
Visited websites, computer time, launched applications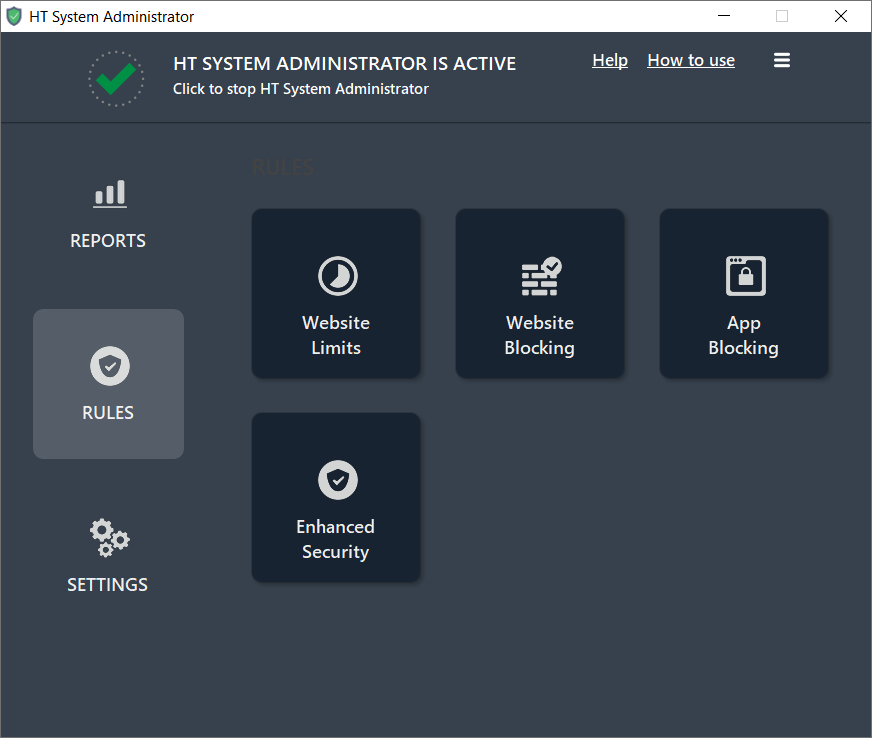 The software is compatible with all versions of Windows - Windows 8, 7, Vista, XP, etc and support all popular browsers.
HT System Administrator allows you control the use of your computers and block unwanted activities in a few clicks.