Internet Filter Software
The child's safety is most important for parents. The best way to keep your children away from inappropriate online activities is to use Internet Filter Software. Except chatting with friends, downloading music and movies, doing homework, teens can tend to view pornography, violence and other inappropriate content on the computer. Filtering content on your children's computer you can avoid dangerous such as chatting with strangers, downloading illegal stuff or sharing personal information. We recommend HT Parental Controls as one of the best internet filter software for parents.
How to block porn sites using our Internet Filter Software
Select the Adult/Pornography checkbox and click OK.
How to limit time on websites with our Internet Filter Software
Click Facebook Blocking.
Click the Add Websites button and enter the URL of the website you want to limit in time.
Click on the website URL and select Limit.

Repeat step 2 to add all websites you want to be limited by time.
Click Apply.
How to set up the Internet Filter Software to allow only certain websites
On the Controls menu, click Website Blocking.
Select the Only allow the websites listed above checkbox.
Click the Add button near the Allowed Websites list.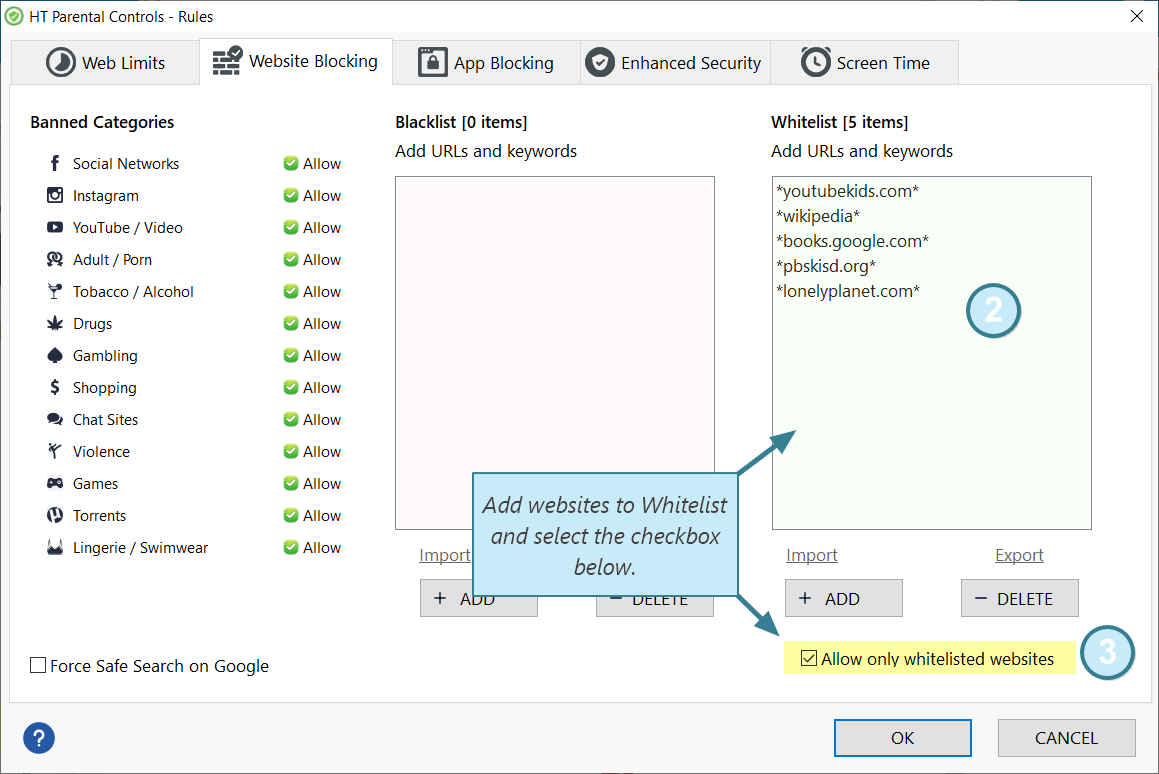 Enter a website address or keyword you want to be allowed and click OK.
Repeat steps 4 - 5 to add all websites you want to be allowed.
Click Apply.
Use Internet Filter Software to provide safe Internet for your kids. Instead of only filtering the results your children get through search engines, you can block specify websites that you think are harmful for your kids, disable unwanted applications, control computer time, monitor users activities. HT Parental Controls is hidden and asks for a password at login.
Other than filtering websites, HT Parental Controls will give you full control over the computer providing you with remote reports of all computer activities such as visited websites, typed keystrokes, screenshots, etc. Try our internet filter software with a 15-day free trial.