How to Block Websites by Category
If you are worried that your kids can stumble upon adult sites or that they spend too much time surfing the Internet and social networks, then we recommend website blocking software that can block websites by category. Block 10 different website categories, add your list to block or allow only website from your list with HT Parental Controls.
How to Block Websites by Category Step by Step
If you are looking for a simple and reliable solution to keep adult sites away from your computer and to block websites by category, try HT Parental Controls.
Choose from 10 categories or add specific websites to block. With HT Parental Controls, you can block any websites - social networking sites, online games and much more. Blocking websites by category is very simple.
Read about HT Parental Controls
Download and install HT Parental Controls.
Open the software and click Website Blocking.
Click the website categories you want to block.
Note! If some websites or keywords you want to ban are not blocked, just add them to the list of Banned Websites. In the opposite case, if some sites or keywords you wish to allow are blocked, simply add them to Allowed Websites.
With HT Parental Controls, you can block sites that contain adult content, violent content, give information on drugs, alcohol, and tobacco, etc.
More Solutions to Block Sites
HT Parental Controls will silently work in the background reliably blocking all forbidden content. It monitors your kid's activity on the computer and automatically restricts them from visiting sites that you banned.
The software scans pages and compares their content with a built-in list of banned sites and words. It even blocks proxy sites that are used to bypass filters. The software provides many solutions to block and limit unwanted content. With the software, you can:
Block websites by category
Block websites by URLs and keywords
Block all websites and allow trusted
Limit time on certain sites
Get report of all visited websites
This is only a small part of program features. See all features of HT Parental Controls
One more option of HT Parental Controls is limiting the time a user may spend on certain sites rather than blocking them completely. See how to limit time on Facebook
Go to the Website Limiting.
Add websites to the list and select Limit.
Specify Maximum Time Allowed and set the Schedule if needed.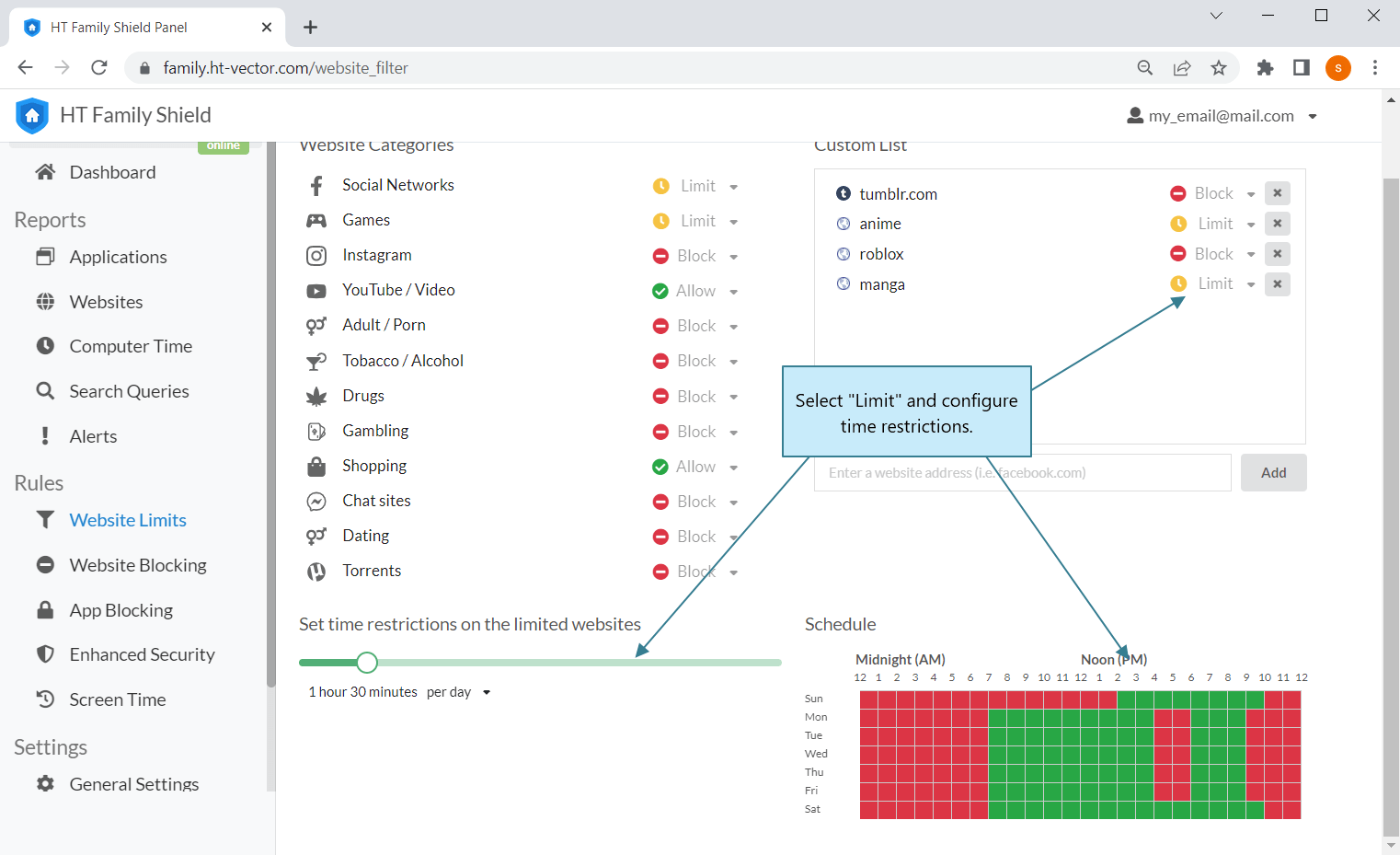 Reports of Visited Websites
In addition to blocking sites by category, the software provides you with reports of all visited websites and time spent on each of them. If users try to visit forbidden sites, you can see such attempts in reports as well. Such sites are marked in red, reasons why the sites were blocked by what categories or by your black-list are also indicated.
With reports, you can evaluate user web activities and be sure that inappropriate content is blocked.
Block websites by categories, keep your kids from seeing adult content and much more with HT Parental Controls.