HT Facebook Blocker - How It Works
1. Installation
Install HT Facebook Blocker on those computers where you want to block or limit Facebook.
The process of installation is very simple. During installation, you can choose the program location and hide /display the program icons.

After installation, HT Facebook Blocker works in the background and runs on Windows startup if you do not change the Autorun settings.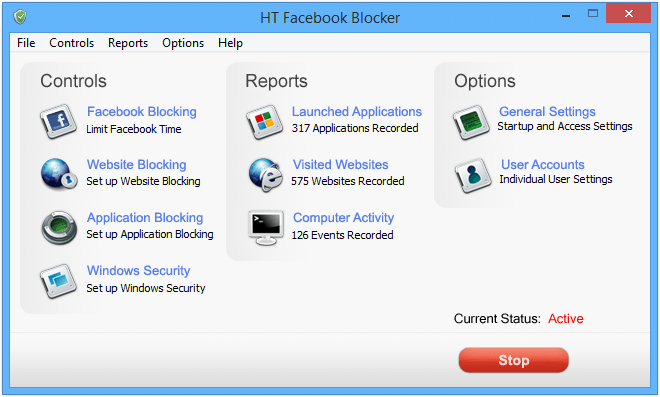 2. Filters
How to Block or Limit Facebook with HT Facebook Blocker
Open HT Facebook Blocker.
Click Facebook Blocking.
Click Facebook and select block or limit.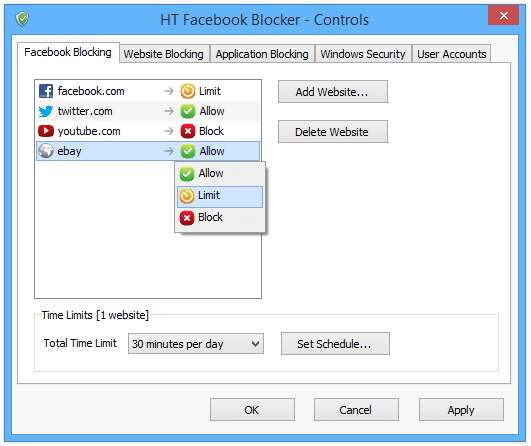 Block means that the website will be blocked completely by HT Facebook Blocker and users cannot access it and associated pages.
Limit means that the website may be accessed based on your settings. For example, limited by a schedule or by the amount of time users can spend on it.
If you want to unblock the website, you can do it without changing settings. Just open Facebook Blocker and click the Stop button on the main window.
How to Block Other Sites
The program allows you to block or limit any website by URLs or keywords.
Go to Facebook Blocking
Add to the list any sites you want to control access to.
Select the Block or Limit status for each added sites.
Specify how much time a day users can spend on websites marked as limited.
Set up the Schedule for limited websites if necessary.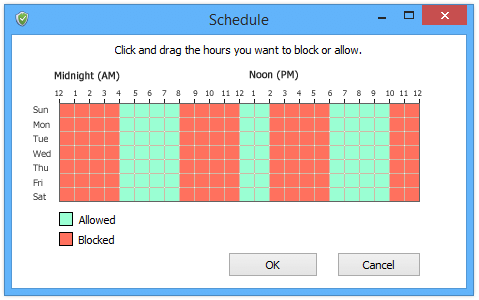 How to Block Applications with HT Facebook Blocker
With HT Facebook Blocker you can block any applications installed on the computer.
Open HT Facebook Blocker and click Application Blocking.
Select from the list the apps you wish to block or add the exe files to the list of blocked applications.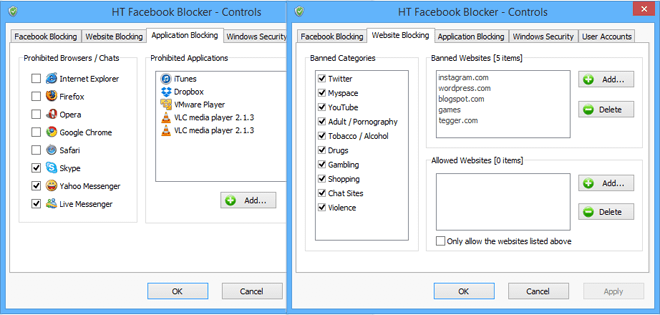 This feature is extremely useful to block time-wasting applications such as games or IM.
How to Disable Access to Important Windows Options
The Windows Security feature lets you restrict access to important windows features. This will protect your OS from an incompetent computer user and will help protect the program against bypassing with the aim to remove restrictions.
Open the program and click Windows Security.
Select the checkboxes with the names of Windows options you wait to block.
HT Facebook Blocker can restrict access to Task Manager, Control Panel, Registry Editor and more.
3. Monitoring Features
Blocking and limiting features is only a part of HT Facebook Blocker. The monitoring features show you what websites and applications were used and how much time was spent on them. This helps to evaluate computer activity and identify unproductive work time.
HT Facebook Blocker provides reports of Visited Websites, Launched Applications and Computer Time.
Try HT Facebook Blocker now to block unwanted activities, improve productivity and protect users.