How to Block Websites on Firefox
You can want to block specific websites on Firefox for many reasons, especially if you find them offensive and want to protect your children. Firefox does not have a built-in function to block sites, so you need to use special software, install a Firefox extension, or change the Hosts file. Keep reading this article to find detailed instructions with screenshots on how to block websites on Firefox in different ways.
How to Block a Site on Firefox with Parental Control Software Software
Use special parental control software such as HT Parental Controls to quickly and reliably manage browsing and computer use. Such software has many features, compatible with all popular browsers, and allows you to set your rules.
Download HT Parental Controls and install it on your computer.

Click Website Blocking.
Add websites you want to block to the Blacklist or use pre-defined categories.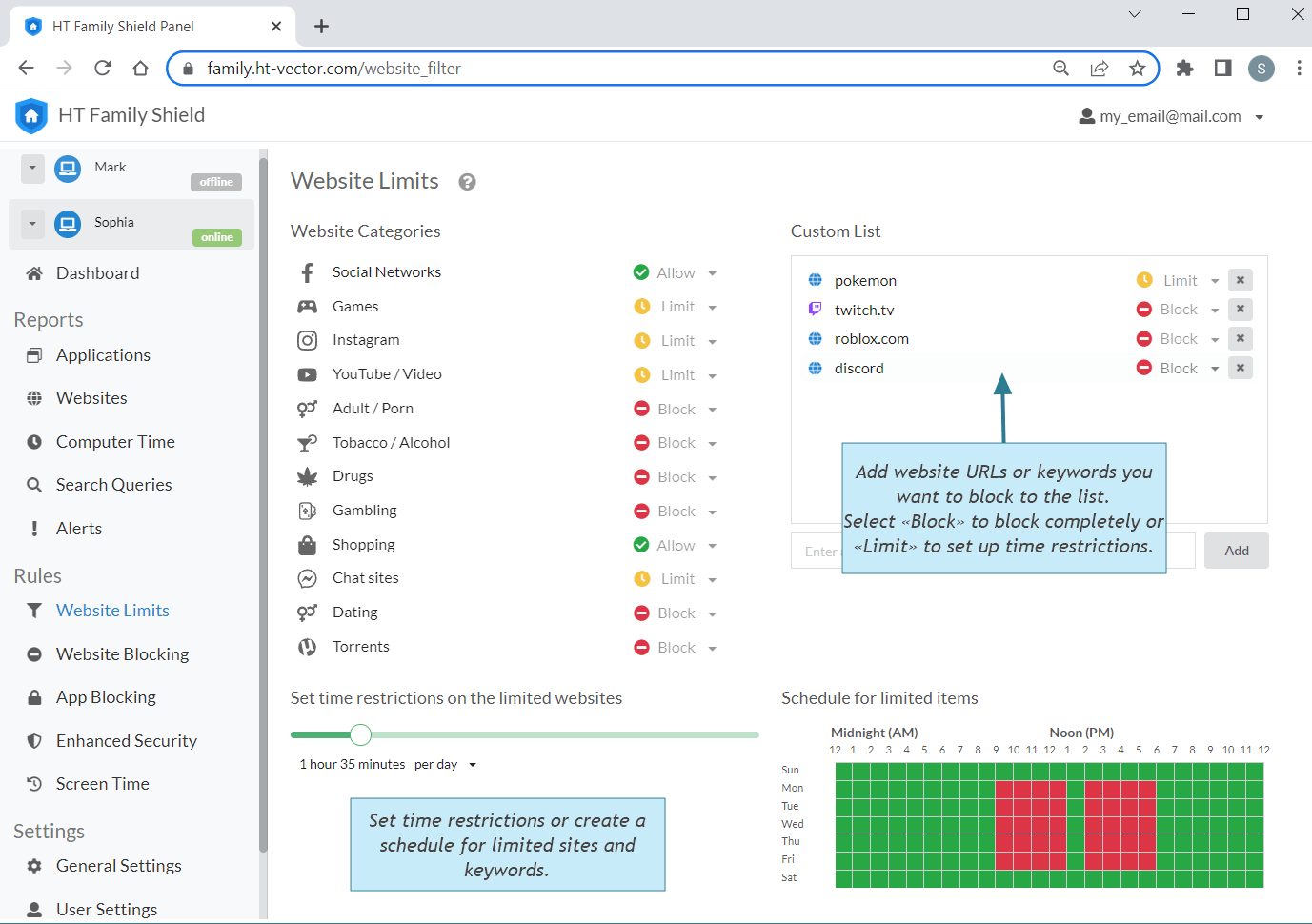 Note!
You can block any websites/keywords,
block website categories
or set time limits for specific websites or make a schedule for them.
Read How to Block Websites Temporarily
HT Parental Controls has many useful features. With our software, you can:
Block Websites in Firefox
Block websites in all popular browsers by keywords or URLs.
Block Website Categories
Block social networking sites, chats, porn, etc.
Allow Only the Websites Those Whitelisted
Allow only trusted websites and block any others.
Block Applications
Block messengers, games, any installed program.
Monitor Computer Activities
Ger reports of visited websites, launched applications, etc.
Remote Control
Get remote access to the filters and reports.
How to Block a Website on Firefox Using the Hosts File
The Host file is a system file that is on each computer with Windows, and that is used to convert domain names to their IP-addresses, and vice versa. Each browser checks the file after each address input. You can easily block access to a website by adding it to the Hosts file.
Open the Hosts file—C:\WINDOWS\system32\drivers\etc\hosts file in a text editor.
Find the line 127.0.0.1 localhost.
To block a website in Firefox, add such text with its address under the 127.0.0.1 localhost line.
For example, to block YouTube, add:
127.0.0.1 youtube.com
127.0.0.1 www.youtube.com
Save and close the file.
Restart your computer.
Try to open the banned website in Firefox.

Note! Make a backup of the hosts file and put it somewhere safe if you make a mistake.
Unfortunately, despite the simplicity of this free method, it has disadvantages cause it can be easily bypassed or work improperly and does not block websites.
How to Block a Website with Firefox Add-ons
Firefox add-ons are extensions that can be added to Firefox and carry out special functions. You can find them on the Firefox website. Here we describe how to block a website with the most popular for this add-on BlockSite.
Open Firefox and go to

https://addons.mozilla.org/firefox/addon/blocksite/

Click Add to Firefox and install the extension.
Go to add-ons settings Tools > Add-ons.
Click Options under the BlockSite add-on.

Click the Add button end enter the addresses of the sites you want to block.
Save changes.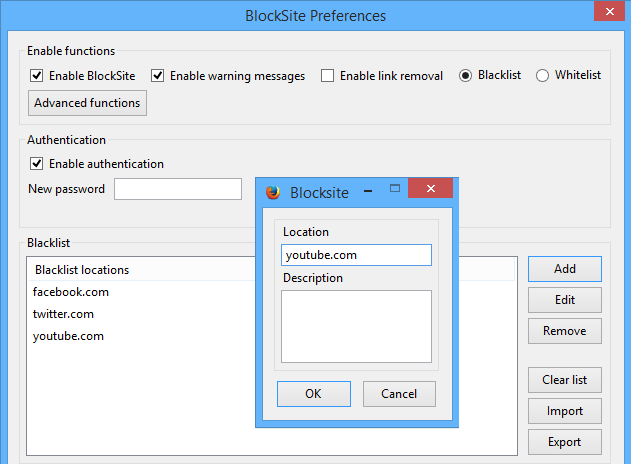 Unfortunately, any add-on can be disabled or even uninstalled in a few clicks by any user who can find dozens of methods on how to do it on the Web. In addition, the add-on can block only specified URLs and does not offer reports.
We have shown different ways to block a website in Firefox. Try HT Parental Controls with a 14-day free trial version to test all the benefits.