Internet Safety
It is becoming impossible to function efficiently without the Internet. Children use it to do homework, contact friends and have fun every day online. The Internet also presents a whole new group of dangers for our children from violent games to pornographic materials and online predators. Our children are in danger every time they are online.
How to Keep Your Child Safe on the Internet
1. Talk to your children about dangers on the Internet
Let them know that there are people online that may hurt them or take advantage of them in some way. Obviously, you do not want to terrify your children, but it is essential that they understand there are people out there that would harm them if they could.
2. Monitor your kid's computer activity
Monitor your child's computer activity - chat rooms, instant messages, emails. Visited websites also is very important. With whom and about what they are talking. Are there people you don't know? Is any personal information there?
3. Block inappropriate content
Filter the websites your child can access. Learn how to block adult websites, content that may contain violence or online shopping sites by using your router or filtering software.
4. Forbid your children to share personal information
Help your children understand that they should not provide information about themselves to anyone on the Internet - phone number, home address, name/number of schools as well as display photos. After all, anyone on the Internet can see it. Teach them appropriate online behavior.
5. Teach them the rules of internet safety
Children should never meet with their network friends in real life on their own without adults. Constantly communicate with your children. Consider talking openly with your child about your suspicions. Never too late to tell the child how to act and react to other people online. Teach your children how to react if someone threatens them or becomes aggressive.
6. Remember that the best protection for your child is you
Parental tools let you control your kids' access to adult material and help you monitor their computer actives. However, no option guarantees 100% safety. It's important to be aware of your kids' activities and teach them about online risks.
Tell them about potential online dangers to help them surf the web safely.
We would like to present our applications that help you provide a safe Internet for your child – HT Parental Controls. It allows you to filter and track what your kids are doing online and offline.
Learn more about HT Parental Controls
How to Filter Content
HT Parental Controls allows you filter content and block content inappropriate for children. You can block sites a from predefined list of categories. Block certain sites by URLs or keywords or allow only whitelisted websites.
Download and install HT Parental Controls.

Click Website Blocking.
Select the checkboxes with names of the categories you want disabled on the computer.
Click Add button and enter sites you want to block.
How to Monitor Computer Activities
HT Parental Controls captures virtually all computer activities. It records websites, application, makes screenshots and provides you very detailed reports that can be received by email.
To start monitoring activities, install HT Parental Controls on your child's computer. The program begins to monitor all computer activities immediately upon installation automatically.
Monitoring is very important. It allows you to know what exactly your child is doing, how he or she behaves online and how they spend their computer time.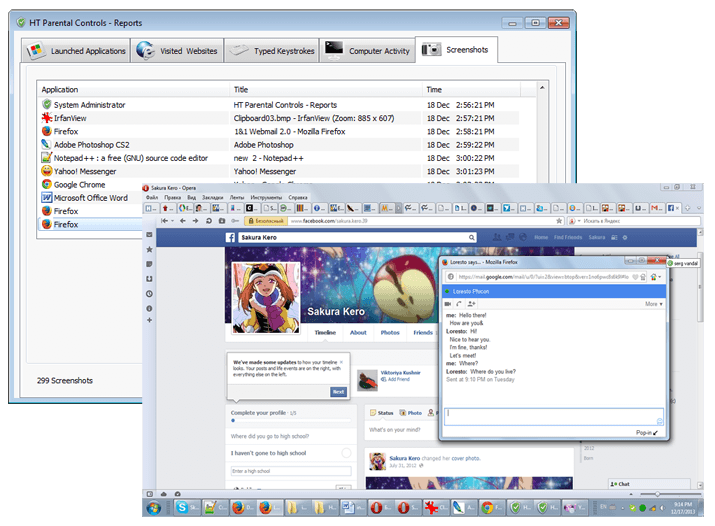 The software will also send you email reports with logs of all their online activities, so you can monitor their computer remotely.
Don't disregard the rules of internet safety. Obviously you cannot be around your children all the time when they are online. The software allows you to have peace of mind knowing about everything they are doing on the computer. Even if you are not at home, you can protect your child from online threats.