I do not get email reports. What should I do?
There can be several reasons for this.
Open the Email Reporting tab and click Send Test Report. Depending on the result, there are a few solutions.
First Case - You get a message that the test is successful, but you do not receive the email.
Solution - It means that your reports are in Spam/Junk, so please check your Spam box.
Note, some email boxes filter your email on their entrance, so you even could even not receive your report in spam. Instead, you have such or similar emails that also can be in the spam - Mail delivery failed: returning message to the sender.
Solution - Change your email address to another email box or add an additional email address to receive the reports.
You can add a few email addresses to receive reports, then send test report and check on which email address you will get it. To receive email reports to a few emails, simply add others addresses separated by a comma.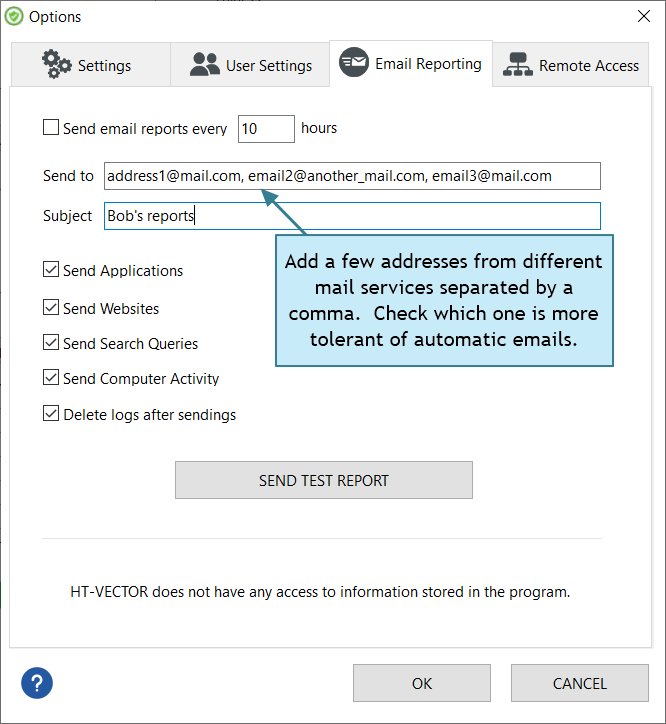 Second Case - You get a message about a socket error.
Such error occurs if some firewall blocks HT Parental Controls from accessing the Internet. You need to add HT Parental Controls to the list of exceptions of your Windows Firewall and all other firewalls/antivirus you use on your PC.
Solution - Add HT Parental Controls to lists of exceptions of all installed firewalls and antiviruses.
Learn how to add HT Parental Controls to Windows Firewall Exceptions
Note, make sure that HT Parental Controls has permission to access the Internet from all other firewalls/antivirus you use on your PC.
The third case – You received the test report, but do not get reports regularly.
Please check the following:
Click General Settings and make sure that the Run the program automatically checkbox is checked.
Check the Start/Stop button on the main screen. The current status has to be Active.
Check the Computer Activity logs to make sure that the program worked all the time when the computer was running and was not bypassed.
Back to HT Parental Controls Help Center
Please do not hesitate to contact us. We're here to help.
Contact us