HT Facebook Blocker 8.1.2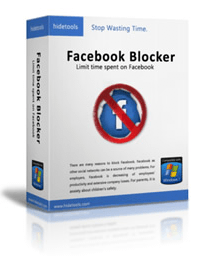 If you are looking for a way to block Facebook and other social networking sites, HT Facebook Blocker is best for you. HT Facebook Blocker is the number one software to block or limit time-wasting activities. It can both completely block websites and limit the time on them helping you manage computer usage and internet access.
The software assists you in increasing productivity and limiting non-work-related activity. HT Facebook Blocker is the best way to beat time-wasters. Downloads and installs in 2 minutes!
Facebook Blocker Features
Block Facebook and Other Social Networks
With just two clicks, Facebook and all associated pages can be locked on the computer prohibiting your user from accessing the site. The software is securely protected so even a very experienced computer user cannot get around it even with proxy services or anonymizers. HT Facebook Blocker supports all versions of web browsers and reliably follows your instructions. See how to block Facebook in Google Chrome
Limit Time on Facebook
Limit the time on Facebook to a certain amount per day if you don't want to block it completely. HT Facebook Blocker allows you to limit the time users can spend on Facebook and other websites. For example, you can limit Facebook to 30 minutes per day. Or you can set up a schedule and block social networks and other entertainment websites during working hours, but allow them during breaks. HT Facebook Blocker allows you both blocking and limiting. Feel free to choose the best for yourself.
Block Websites
With HT Facebook Blocker you can restrict access to any website independently, be it a social network or another site. The software allows you to block access to sites based on their address as well as their content. Use of our predefined site categories makes web filtering even easier.
Block Applications
Facebook Blocker allows you to block specific applications from launching on your computer. It can be beneficial for employers who want to prohibit applications that help waste time like games or IM.
Block Instant Messengers
Instant messengers can take a lot of time. Facebook Blocker can restrict access to all major instant messengers such as Windows Live Messenger, AIM, ICQ, Yahoo messenger and others.
Monitor Activities
Besides blocking features, HT Facebook Blocker has monitoring features and can record all websites visited and applications launched. Having a history of visited sites allows you to ensure that your filter is working properly and can be useful when auditing surfing trends. Website monitoring works in all major browsers, Chrome, Microsoft Edge, Firefox, Internet Explorer and Opera.
Facebook Blocker also records logs of all launched applications so you can know when an application was opened and how much time a user spent on it. It's extremely easy to control access to the programs installed on your computer with our software!
Individual User Settings
If you need to have different access restrictions for different users, HT Facebook Blocker can do it. We provide the ability to enable activity logging, website filtering, application filtering, time controls, and windows security permissions on a user basis.
Facebook is the most popular social network in the world. About half a billion people visit Facebook on average four times a day and spend at least one hour reading news or chatting. Many employers believe that Facebook has a negative impact on productivity. These sites are time-wasters which can cost businesses millions of dollars. Our software can help you limit time-wasters and release time for real life.
Start using HT Facebook Blocker now!