Fast Windows Hider 10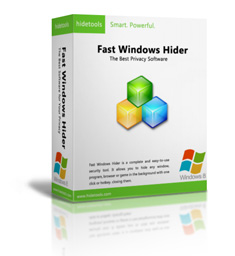 Everyone has been faced with a situation where someone views your screen with personal information on it. Do you occasionally want to visit Facebook, play games, chat, or just take some rest in the workplace without looking over your shoulder?
Let us introduce Fast Windows Hider, specially designed to protect your privacy. Fast Windows Hider is an easy-to-use tool that allows you to hide any window, program, browser or game in the background with one click or hotkey. The program instantly hides specified windows from your desktop and taskbar without closing them. Click once to hide and click once more to restore all hidden windows without any loss of information. Fast Windows Hider mutes sound as well as hides tray icons.
Hide Any Applications
Hide Games
Hide Instant Messengers
Hide Video and Photos
Hide Browsers
Hide Emails
Screenshots
Fast Windows Hider Features
Instantly Hide Any Window
Fast Windows Hider instantly hides windows you want to keep private with one click or hotkey. You can hide browsers, instant messengers, photos, video, any document or email. You can hide any application you want. Just click your mouse wheel or press the hotkeys and all specified applications with all their windows will be hidden instantly.
Free Lost Restore
You can restore all hidden windows without any loss exactly to the same place and state. Just unhide your windows to resume your activities as if nothing happened.
Hide Instant Messengers
The program allows you to hide instant messengers, their pop-ups, their tray icons and even mute instant messenger familiar sounds. No one will suspect that you've launched instant messenger. Of course, all this time you'll be online, and your friends can send you messages that you will receive as soon as you unhide the messenger.
Mute Sound
Fast Windows Hider automatically mutes sound (optional) when you hide windows. It is especially important if you hide films, music, games, browsers, etc. Sounds can be the most treacherous, so please be sure you enable this feature.
Configure Once, Hide Anytime
Configure Fast Windows Hider once to hide all your personal windows whenever needed. Just specify what applications, browsers, instant messengers, etc. you want to hide. After that, the program knows what you want to hide. You just need to press the hotkeys or mouse wheel.
Stealth Mode
Fast Windows Hider silently works in the background, invisible to others so nobody can detect it. Only you will know that Fast Windows Hider is installed!
Different Ways to Hide
Fast Windows Hider allows you to hide windows in different ways. It can be pressing the mouse wheel, moving the mouse or hotkeys. By default, to hide private windows you should press your mouse wheel, or press Shift + F12 or move your mouse to the Bottom-Right corner of the screen. Choose one of these methods or customize the hide option to the most suitable way for you.
How Fast Windows Hider Works
To Configure
The Fast Windows Hider interface is simple and friendly. First, you should specify what applications you may want to hide instantly. So open Fast Windows Hider and choose the apps - select the most widespread internet applications or add yours. Specify all applications you want to conceal. Now you can close the window.
To Hide
When you need to hide your windows, click the mouse wheel or use another way to hide. It can be hotkeys pressing - Shift + F12 by default, by moving the mouse to the Bottom-Right corner of the screen, or your customized methods.
To Unhide
To unhide the windows, click the mouse wheel once again, or press Shift + F12, or move the mouse to the Left-Right corner.
To protect your privacy, start using Fast Windows Hider today!