General Settings
On the General Settings tab, you can configure the most common and important program settings such as program autorun, access keyboard shortcuts, and password. You should find it fairly intuitive to use this tab. Read the information below if you need help.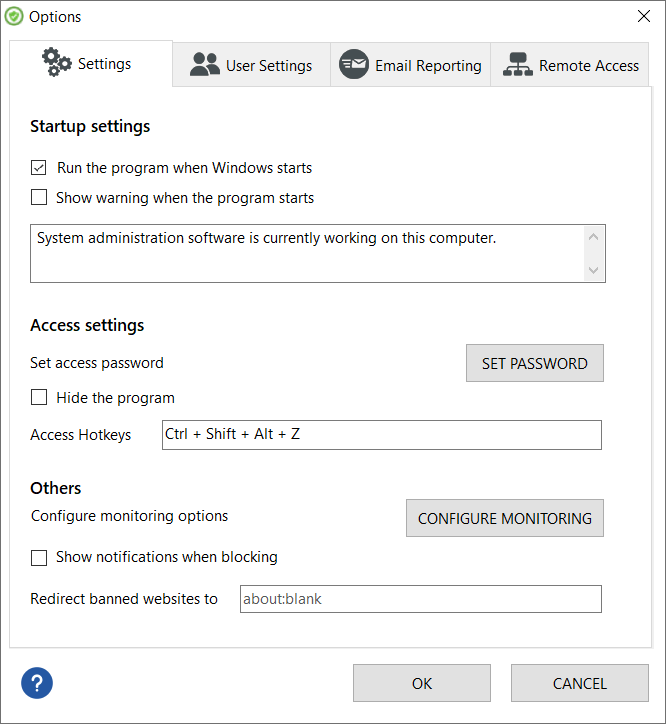 Run the program automatically
This option configures the program start. If it's checked, HT Parental Controls starts automatically at Windows loading. The feature is essential for parental controls' uninterrupted work. The option is enabled by default.
Show warning when the program starts
Select it if you want the program displays a message each time the parental control runs on the PC. In the field below, you can enter your text for the message. It's unchecked by default.
Hey! This computer is for homework, not for entertaining. If you want to have fun, let's play basketball with dad!
Hide the program
The option allows you to hide the program icons completely. In case it's hidden, you can use the keyboard shortcuts or the access work to open it.
Access Shortcuts
The default keyboard shortcuts to open HT Parental Controls are Shift + Ctrl + Alt + Z. The keyboard shortcuts are also adjustable. To change the keyboard shortcuts, put the mouse cursor in the field and press your combination.
Note! You need to use a unique combination that does not conflict with other programs' shortcuts to avoid conflict between applications.
Password Protection
Use it to create or change an access password. Learn how to create or change an access password
Configure Monitoring
Click the button to choose which activities HT Parental Controls needs to record.
Show warning when blocking
The option allows you to show a warning message when HT Parental Controls has blocked a website/application. By default, HT Parental Controls blocks the website redirecting it to about: blank and does not show any message. If it blocks an app, the app simply cannot be opened.
If the option is enabled, a Windows notification appears each time your child tries to access inappropriate activity.
Back to HT Parental Controls Help Center
Please do not hesitate to contact us. We're here to help.
Contact us