Parental Control Software
Being parents is a responsibility and difficult mission. Most parents have to work till late in the evening and don't get much time to spend with their kids. Who or what can help parents? We want to represent parental control software.
What are your children doing most of their time at home? Most parents will say, "They are seating at a desk in front of their computer." But what are they doing when seating on the computer? Are they doing homework or serf Net or may be chatting with strangers or playing games? Most parents do not know this.
We propose you to know what they are doing on their computer together with our parental control software - HT Parental Controls.
Learn more about HT Parental Controls
These days more and more children become dependent on the Internet and computer. The Internet is a great source of various learning tools and services, but unfortunately, there is also a lot of inappropriate information on the Web. The Internet is a place where your child can meet with frauds and sexual perversions. The important problem for every parent is to protect their children from the bad sides of the Internet. But how can parents protect their children from internet threats? Any parents cannot spend all time together with their child, but our parental control software can do it!
Parental control allows you to monitor your child's computer activity and completely control it. It protects your child from Internet threats and directs them from useless pastime to studies.
How does our Parental Control Software Work?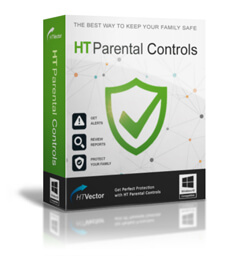 If you try to know what your child is doing on the computer, you scarcely will know the truth. HT Parental Control is another pair of shoes. You don't need to run your child's computer but just check your email. With our parental control, you will receive the log report through specified by you interval. The log report contains detailed information about all your child's computer activity - websites visited, system activity, programs used, screenshots and more. This monitoring helps you to be involved in your kid's life and identify all the dangers in time.
The second step toward your children computer upbringing is limitation your child in his actions. Parental control proposes you fully computer control. It means that with the parental control you can forbid any application run, block websites, block internet browsers, instant messengers, chats, games and so on. Just configure parental control software, and your child's computer is under your control. Now you apply the rules of your child's computer usage.
HT Parental Control has an user-friendly interface and doesn't require any specific computer knowledge. However, even computer well-knowing child never recognize that parental control is run and cannot stop or deinstall it. The program is invisible and protected with the access password.
HT Parental Control will be your eyes and arms on the child's computer. It is your untiring helper in your child's upbringing.