Parental Time Control Software
If you are worried about how much time your children spend on the computer or what they are doing online while you are not able to supervise them, then let us present HT Parental Controls with Time Controls and Time Limits features that allows you to limit kids' computer time and monitor their activities.
Learn more about HT Parental Controls
Parental Time Control Software Features
The Time Control feature of HT Parental Controls allows you to limit the amount of time your child can spend on the computer and shut it down automatically. You may also set up a schedule for computer use. By specifying what time of day is allowed, kids can access the computer only when they are permitted. With HT Parental Controls you can:
Shut a computer down by schedule
Set up a time-of-day schedule when your computer is allowed
Limit the time spent on the computer
Set a computer timer for your kids
Limit time on certain websites and applications
Configure how much time your сошдв can spend on specified sites or apps
How to Set up Time Control with HT Parental Controls
Download and install HT Parental Controls.
Click Time Controls.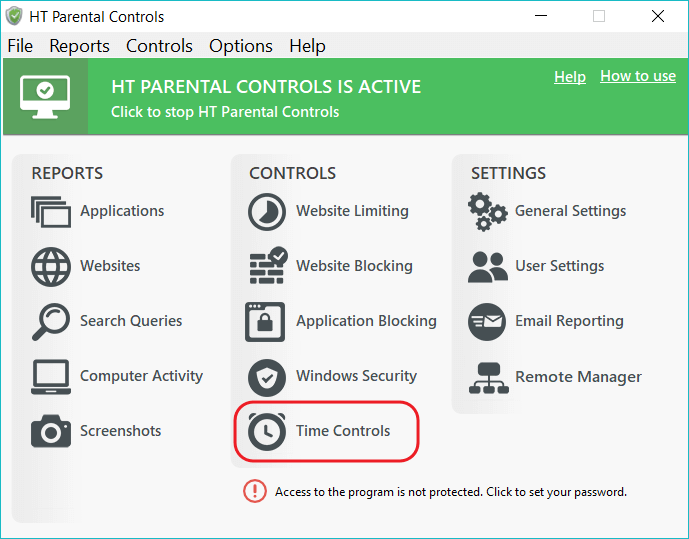 To set up a schedule for computer usage, click-and-drag in the PC Usage Schedule grid. A red space indicates that computer use is not allowed during the time of day indicated.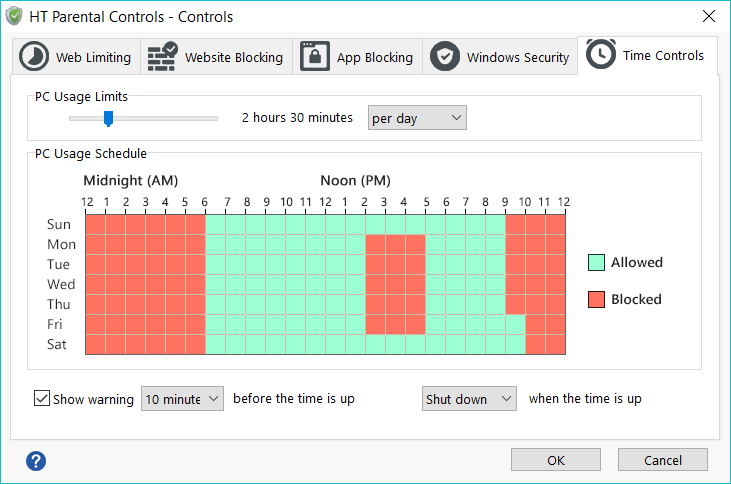 Select how much time users are allowed to spend on the computer from the PC Usage Limits box.
Click Apply to save your change.

Note!
The minimum value is 15 minutes, and the maximum is 10 houses per day.
When computer time is almost up, HT Parental Controls displays a message. Using this window, you can override time controls or extend the time.
Only the person who knows the access password can override the computer timer.
The program does not only help you to limit the time on the computer for your children, but it also allows you to limit the time on specific websites.
How to Limit Time for Specific Websites
Many kids spend too much time chatting with friends on social networking sites and playing online games. They can neglect their homework and their sleep schedule.
Website Limiting allows parents to restrict the time that users can spend on those websites which you have specified in the program. For example, you can limit the time a user can spend on Facebook to 40 minutes a day.
Learn how to limit time on Facebook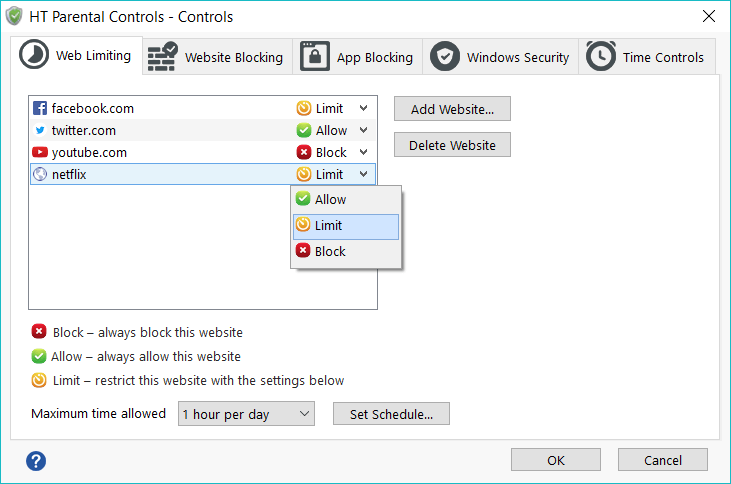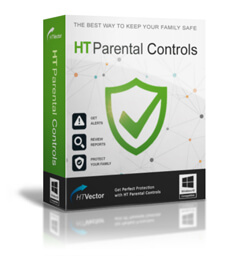 The computer timer for kids is only one of the many possibilities provided by HT Parental Controls.
Many parents are concerned about what their kids are doing on the computer, what they are doing on social networks, what games they are playing, what websites are they visiting, with whom they make contact via instant messaging or emails. With HT Parental Controls you will be able to monitor exactly what they are doing. Logs of websites, applications, and screenshots will give you a clear picture of your kid's computer activity.
Take the opportunity to test the program features with the 15-day free trial.