How to Block Websites
There are many reasons to block websites - Facebook, Twitter, YouTube, etc. Let us show you how to block websites in all major browsers and all Windows versions. In the article, you will find 3 ways how to block websites with website blocking software and Windows settings.
How to Block Websites with Website Blocking Software
The best way to block websites is to use special website blocking software. Such software, in contrast to other methods, is protected from bypassing, lets you block websites more effectively and has many advantages. We recommend using HT Work Focus for business and HT Parental Controls for home to block certain websites in all popular browsers.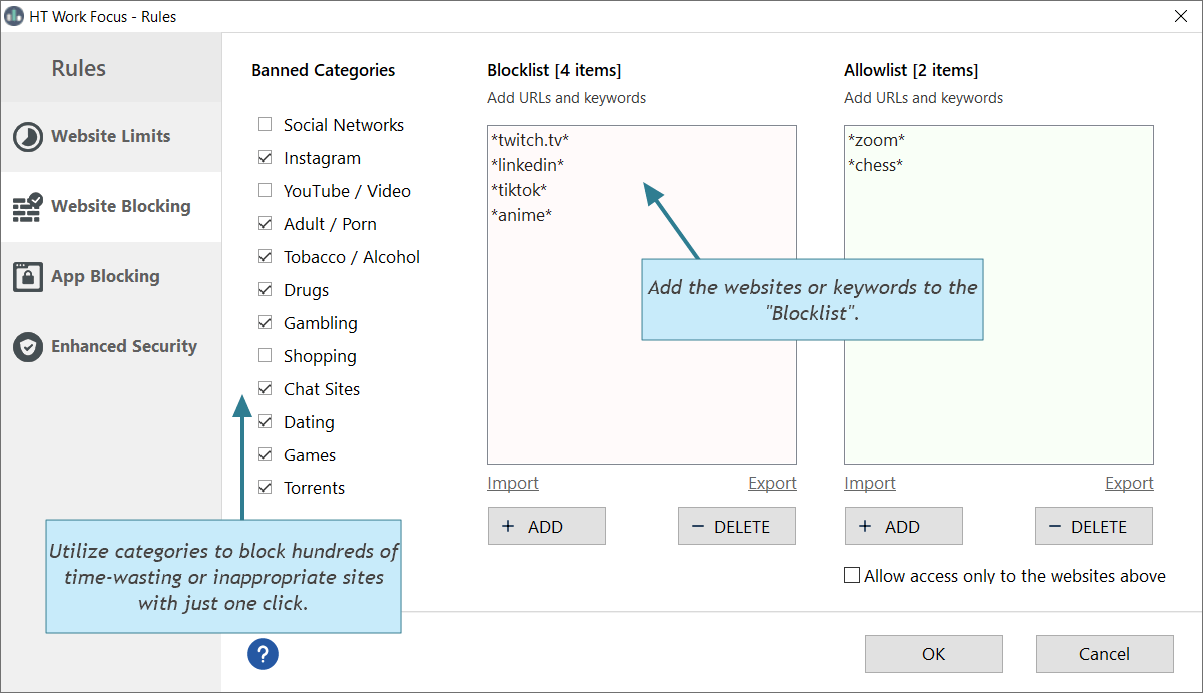 Instead of blocking websites completely you can limit the time on them.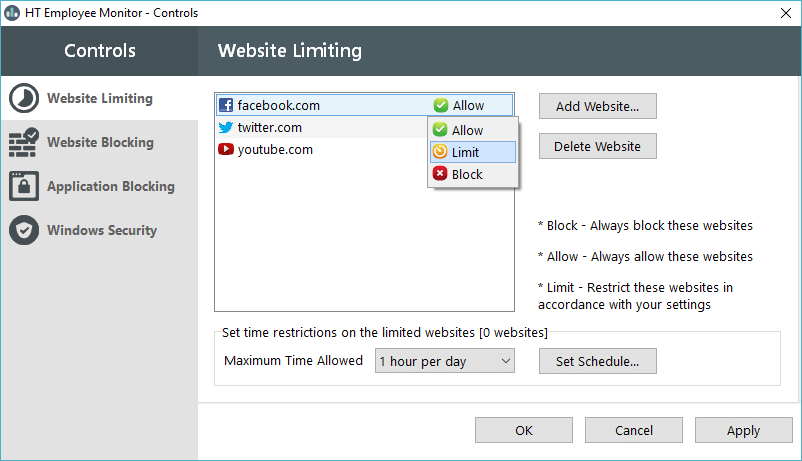 Note! You can block unwanted keywords. If the program finds the specified keyword on a webpage, it will close the page.
HT Work Focus and HT Parental Controls have many features that allow you to restrict unwanted websites or applications and control user activities. These are easy to use and effective computer monitoring and website blocking software. The programs will enable you to:
Block specific websites in all these major browsers
Google Chrome, Microsoft Edge, Internet Explorer, Firefox, etc.
Block websites by URLs, keywords, and categories
Block Porn, Gambling, Chats, Violence, Drugs, etc.
Block applications
Block games, instant messengers, chats, torrents, players, browsers, and more
Record all computer activities
Record visited websites, launched applications, search queries, screenshots
Block all websites except those allowed
Allow only the websites you trust while blocking access to all others
Customize restrictions for each user account
Set up the different filter settings for different users
How to Block Websites Using the Hosts File
The host file is a service file of Windows used by browsers. You can block websites by adding their URLs to the host file. The hosts file method of blocking websites is free but can be easily bypassed. This technique is not password protected and does not allow blocking https:// sites. Read how to block https sites
Note! Make a backup of the hosts file and put it somewhere safe.
Open the hosts file C:\WINDOWS\system32\drivers\etc\hosts with Notepad or another plain text editor.
Find the line "127.0.0.1 localhost".
Enter the URLs of the websites you want to block under this line. For example, to block youtube.com, add the text "127.0.0.1 youtube.com" under "127.0.0.1 localhost".
Learn how to block YouTube

Save and close the Hosts file.
Restart the computer to apply the changes.
Note! The host file does not have an extension. When saving it, do not add an extension to the file. Just keep it as is.
How to Block Websites with Windows Family Safety
This way of blocking websites is suitable only for users without administrator rights. To block websites with family safety for Windows 8:
Go to Control Panel > User Accounts and Family Security > Set up Family Safety for any user.
Click on the users you want to block websites for.
Check "On, enforce current setting" and click Web filtering.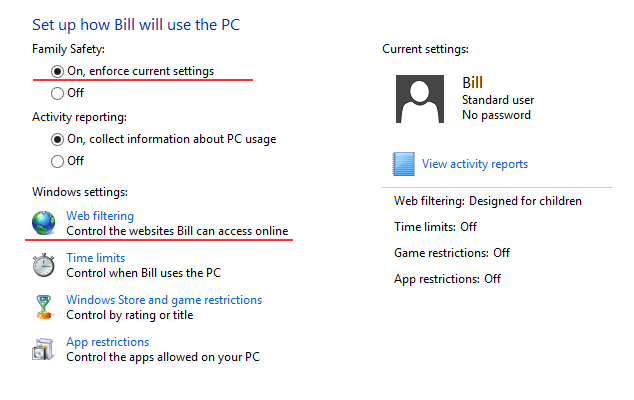 Check "User can only use the websites I allow" and click "Allows or block specific websites".
Enter the URL of the website you want to block and click Block. The site will appear in the Blocked websites list.
Add all websites you want to block.
Windows family safety is a good way to block websites. However, a user can bypass it by using some sites knows as proxy servers. This method is only available for users without administrative rights.
In spite of the range of methods, special website blocking software remains the most simple and effective. HT Work Focus and HT Parental Controls allow you to block certain websites and review reports of all visited websites to find out which of them you need to block and check how the filter works.
Get a free trial to quickly and easily block websites.