How to Limit Time on Facebook
Facebook and other social networking sites are the most powerful destroyers of time. Unfortunately, not everyone can forget about Facebook while working or studying only through willpower alone. Therefore, we suggest using one of two simple utilities to limit time on Facebook and other sites. These tools allow you to arrange visiting times to distracting websites easily. So, how to limit access time to Facebook and other time-wasting websites. Here you can find detailed instructions with screenshots.
How to Limit Time on Facebook Step by Step
HT Parental Controls and HT Employee Monitor allow you not only to limit the time users can spend on Facebook but also set up your policy to limit and block different sites. After downloading and installing the program, you need just to specify how much time daily a user is allowed to spend on Facebook or add your list of distracting websites.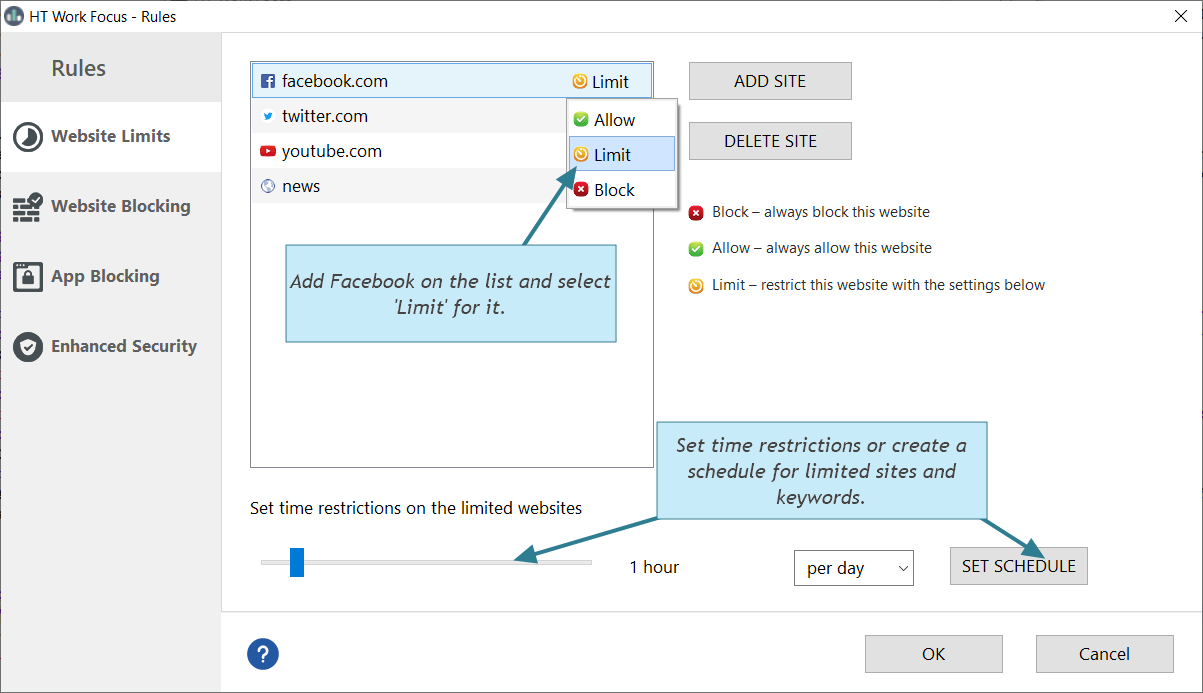 With the software, you can configure the amount of time users are allowed to spend on certain sites as well as set a schedule for when they are allowed.
Specify the hours when the program will limit access to Facebook and the specified sites.
Finally, the last step is to set a password that protects the program settings. Click Options > Set Password.
The program is now silently working in the background, reliably protecting you from visiting distracting websites at the wrong time. If a user tries to visit Facebook outside of allowed hours or stays there too long, the program blocks Facebook and shows a pop-up message explaining that access has been blocked.
Website Statistics
HT Parental Controls and HT Employee Monitor keep a log of events and record sites visited. In this way, you can see which sites were visited and how much time was spent on them. The software records users' computer usage statistics following your requests.
There is an option "System Security" that allows blocking any user attempts to bypass the ban, for example, changing the system time or ending software in task manager.
Software Features
Limit time on Facebook and other sites
Block certain sites and site categories
Control time users can spend on the computer
Block certain applications installed on the computer
Monitor visited websites and time spent on them
Stealth mode and bypass protection
Our Customers Say
Without wasting words, the software is needed, even necessary, plus everything easy and intuitive. It's a godsend to limit time on Facebook and other media. My son began to breathe fresh air and enjoy life. — Joan W, USA
The soft is cool. I do not regret that I bought it. It has lots of features, although I only need to limit Facebook and block disturbing content. Well done! — Luc P, Canada
During the trial period, the program has proved that it perfectly handles the task. It helps me a lot. I installed it on all computers in the office. I recommend it to my clients. — Emir A., UAE
Facebook may be everywhere, but it does not have to control your life. When you limit time on Facebook, you create time for living.