How to Set Time Limits on Facebook and Other Social Media
Facebook and other social media sites are devourers of time. Unfortunately, not everyone can forget about Facebook while working or studying only through willpower alone. Therefore, we suggest using productivity management tools to set time limits on Facebook and other sites. Such tools allow you to arrange visiting times to distracting websites easily.
How to Set Time Limits on Websites
HT Family Shield for home use and HT Task Vector for business use allow you to limit the time users spend on time-wasting sites and apps in a few clicks. After downloading and installing the program, you need just to specify how much time daily/hourly a user is allowed to spend on Facebook/other social media or any website you want to limit.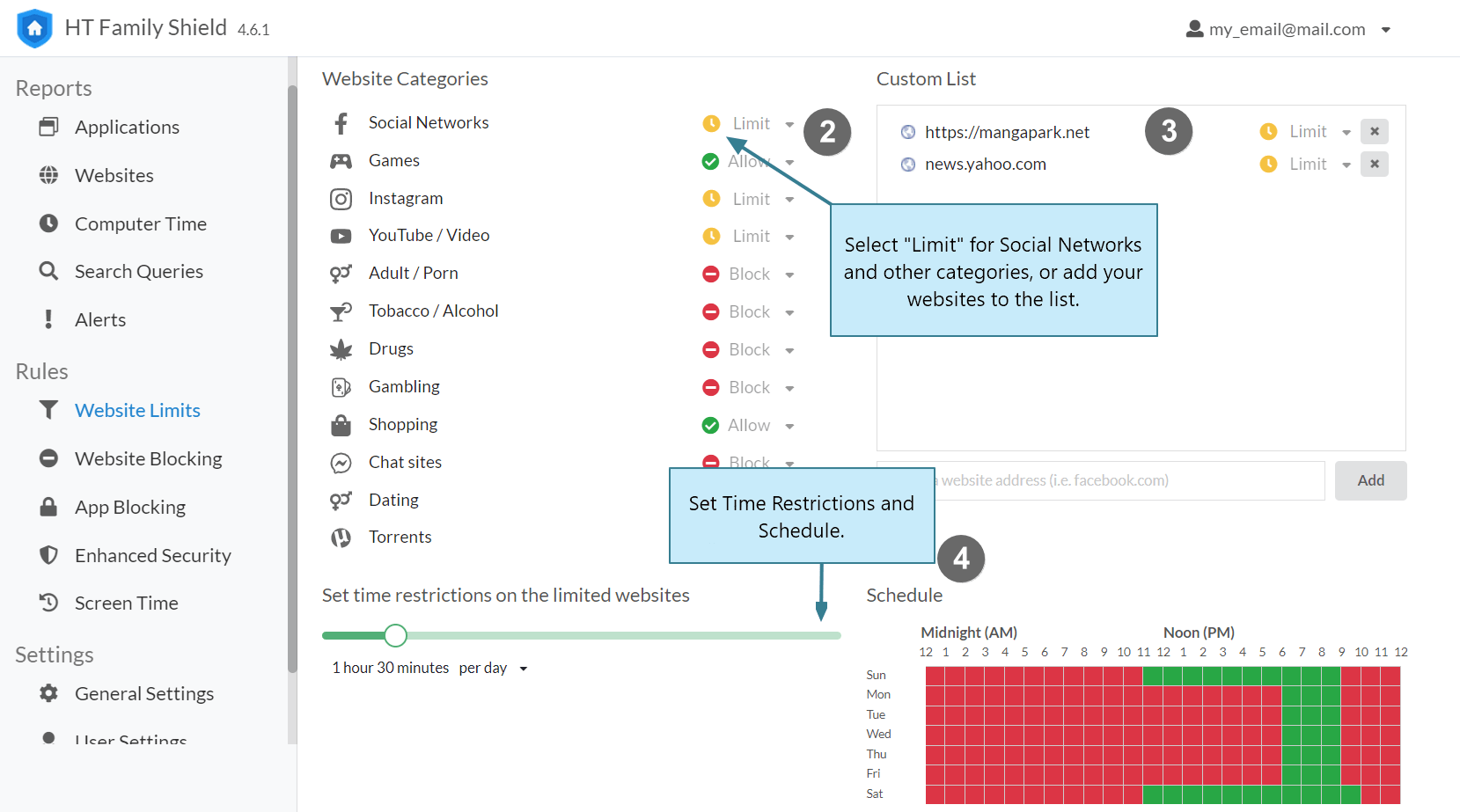 Click to enlarge
You can configure the appropriate amount of time users are allowed to spend on certain sites per hour/day or week.
The Social Networks category includes Facebook and dozens of popular social media sites.
The program is now silently working in the background, reliably protecting you from visiting distracting websites at the wrong time. If a user tries to visit Facebook and other social media outside of allowed hours or stays there too long, the program blocks them and shows a pop-up message explaining that access has been blocked.
How to Set Time Limits on Apps
Go to Rules > App Blocking.
Select Limit for the categories you don't want your users to waste too much time on.
Or add your apps to the Custom List.
After it, set Time Resections and Schedule.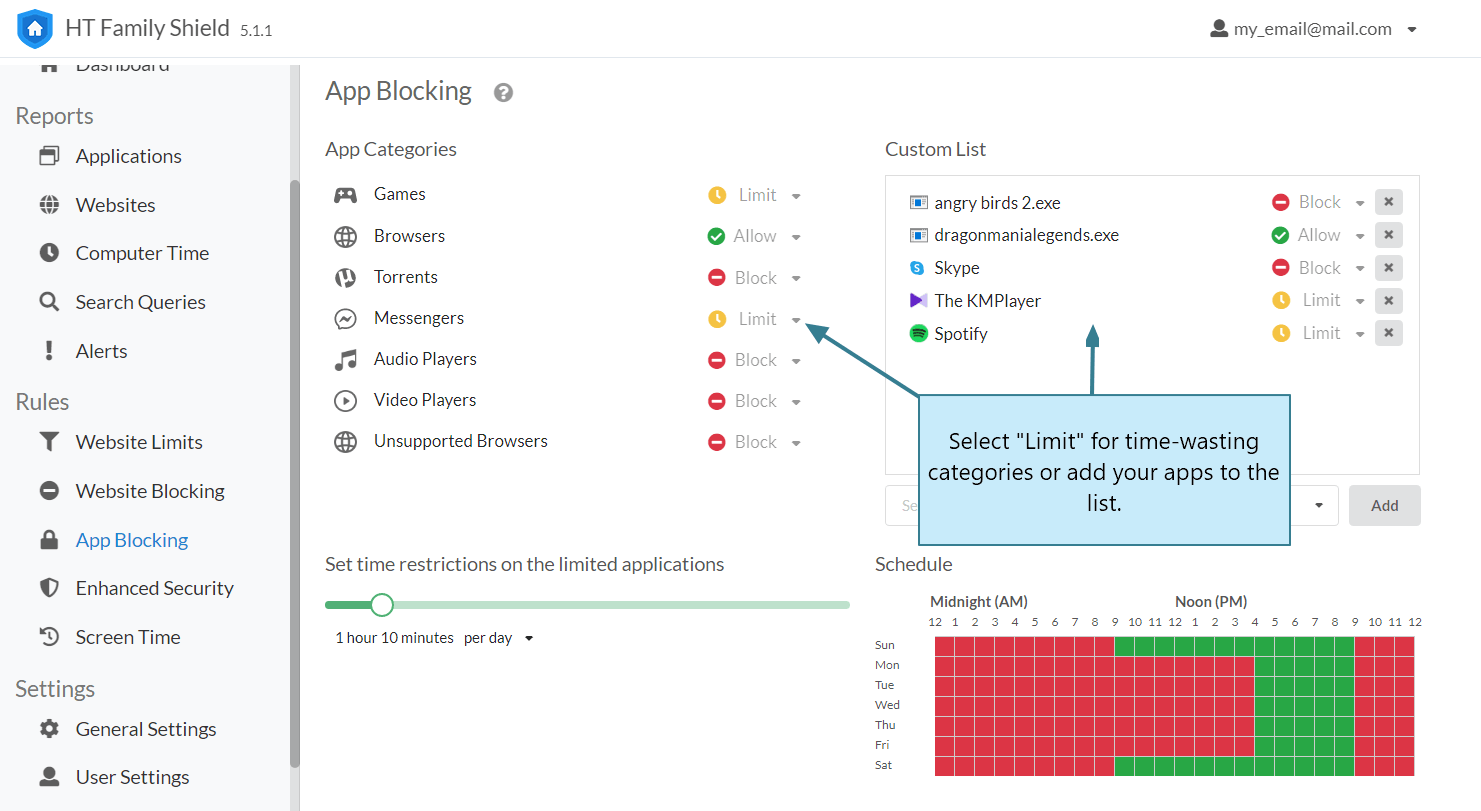 Click to enlarge
Reports
HT Family Shield and HT Task Vector keep a log of events and record sites, apps, search queries, etc. In this way, you can see which sites were visited and how much time your users spent on them. The software keeps computer usage statistics while limiting time-wasters and blocking unsuitable content.
Reports > Websites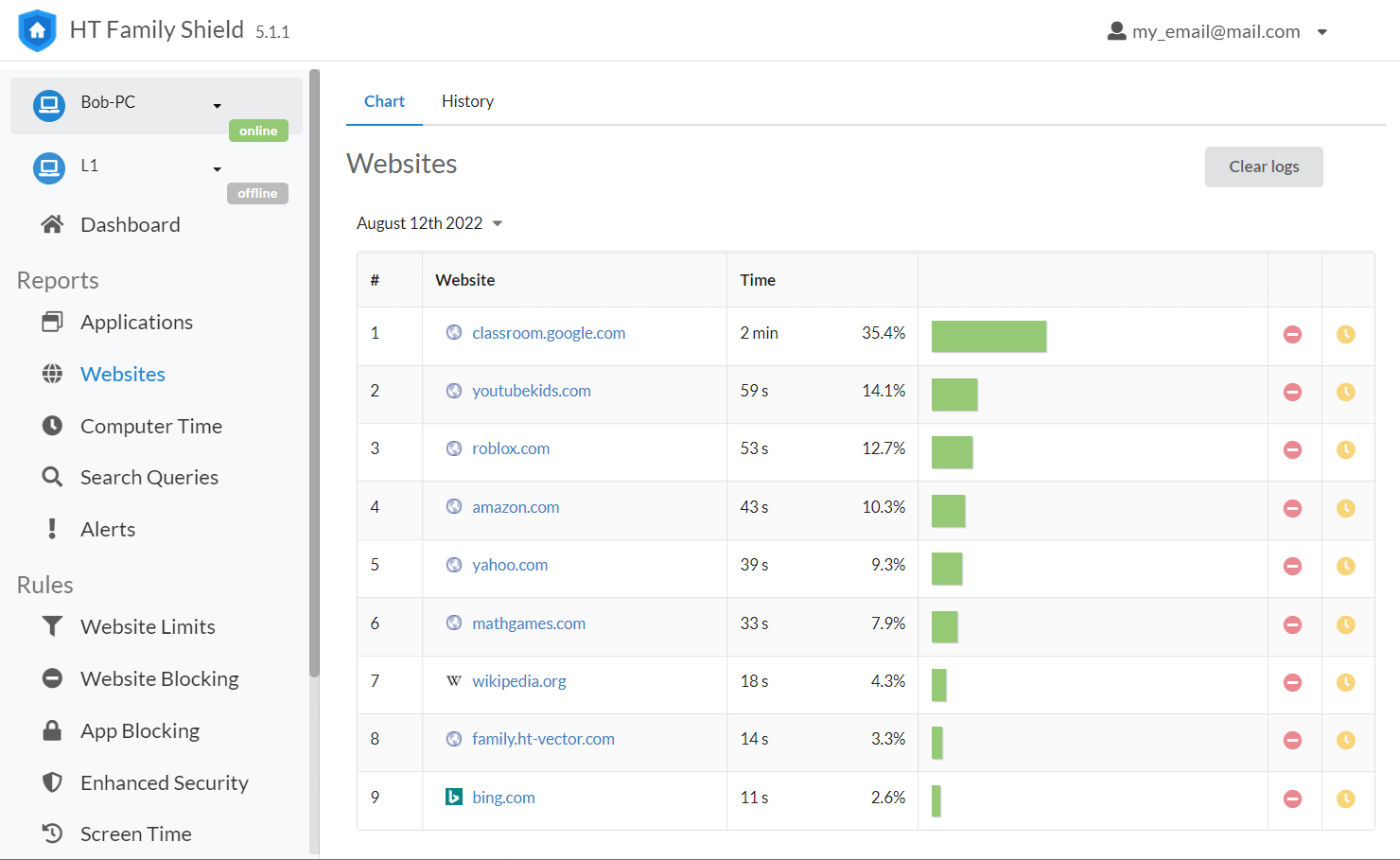 Click to enlarge
Reprots > Applications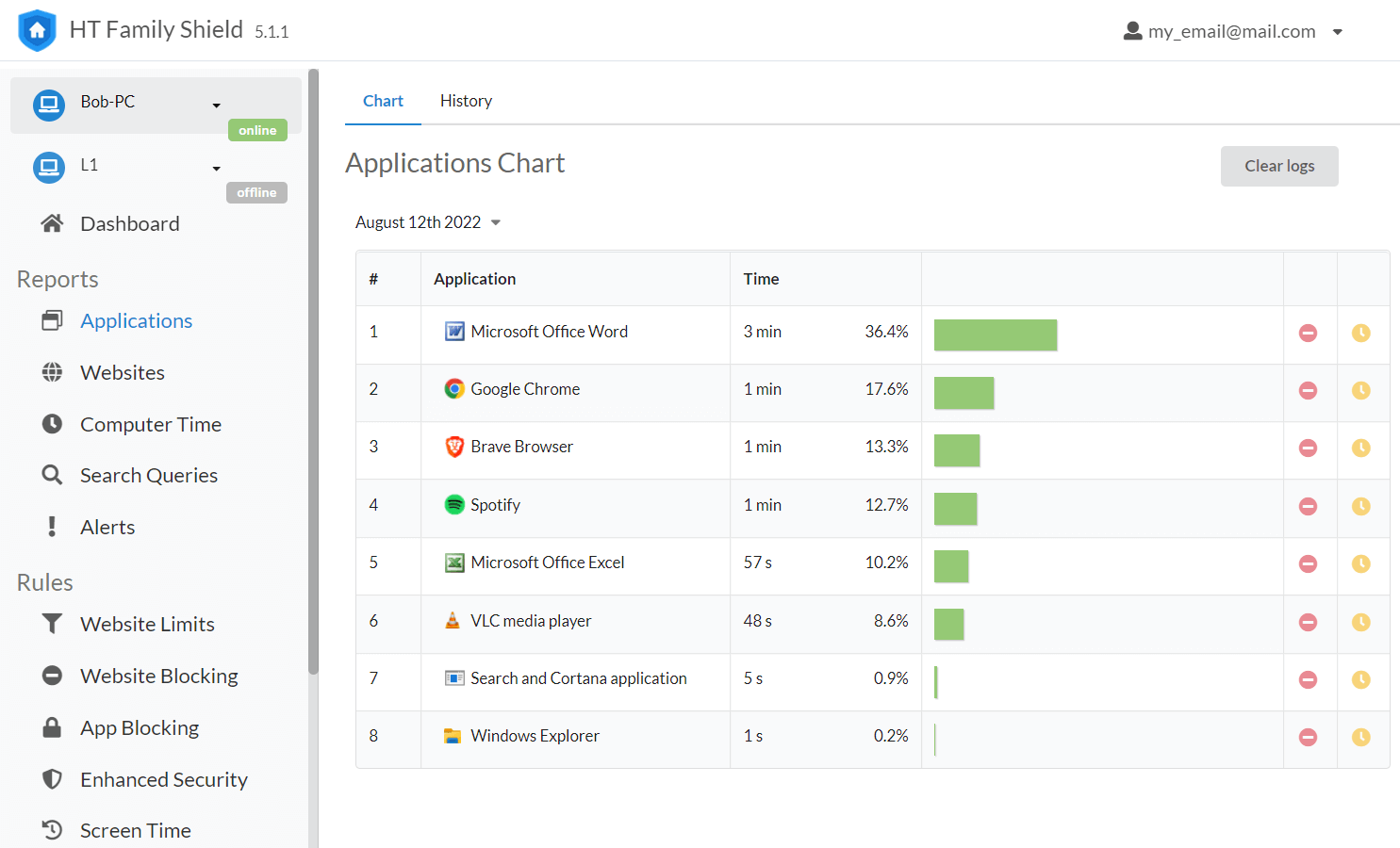 Click to enlarge
Note! You can add websites to the Website Limits from reports. Click the clock icon opposite the site you want to limit time on.
Software Features
Set Time Limits On Social Media & Other Sites
Block Access To Multiple Categories of Websites
Manage Screen Time That Users Can Spend on The Computer
Block or Limit Apps — Games, Messengers, Etc.
Monitor Computer Activities — Websites, Apps, Search Quires
Has Strongly Protections From Efforts To Bypass It
Our Customers Say
Without wasting words, the software is needed, even necessary, plus everything is easy and intuitive. It's a godsend to limit time on Facebook and other media. My son began to breathe fresh air and enjoy life. — Joan W, USA
The soft is excellent. It has numerous of features. The most necessary for me is the ability to set time limits on Facebook and other distractions. Well done! — Lucy P, Canada
During the trial period, the program has proved that it perfectly handles the task. It helps me a lot. I installed it on all computers in the office. I recommend it to my clients. — Emir A., UAE
Facebook and social media may be everywhere, but they do not have to control your life. Set time limits for time wasters with our monitoring & management solutions that can help you solve issues before they become a problem.