How to Block Facebook on Google Chrome
On the Internet, you can find two popular ways of blocking Facebook in Google Chrome. The first is by using the Hosts file, and the second is with Google Chrome settings. In the article, you can find both of them plus a fast and reliable way with website-blocking software.
How to Block Facebook in Google Chrome Using Software
In many cases, it's best to use special software. Such software lets you block any websites effortlessly with just a few clicks. It does not matter what browser you use or what version. There is no way your user will be able to override your limits. Choose one of these programs to block Facebook easily and reliably:
For home use - HT Parental Controls
For business use - HT Work Focus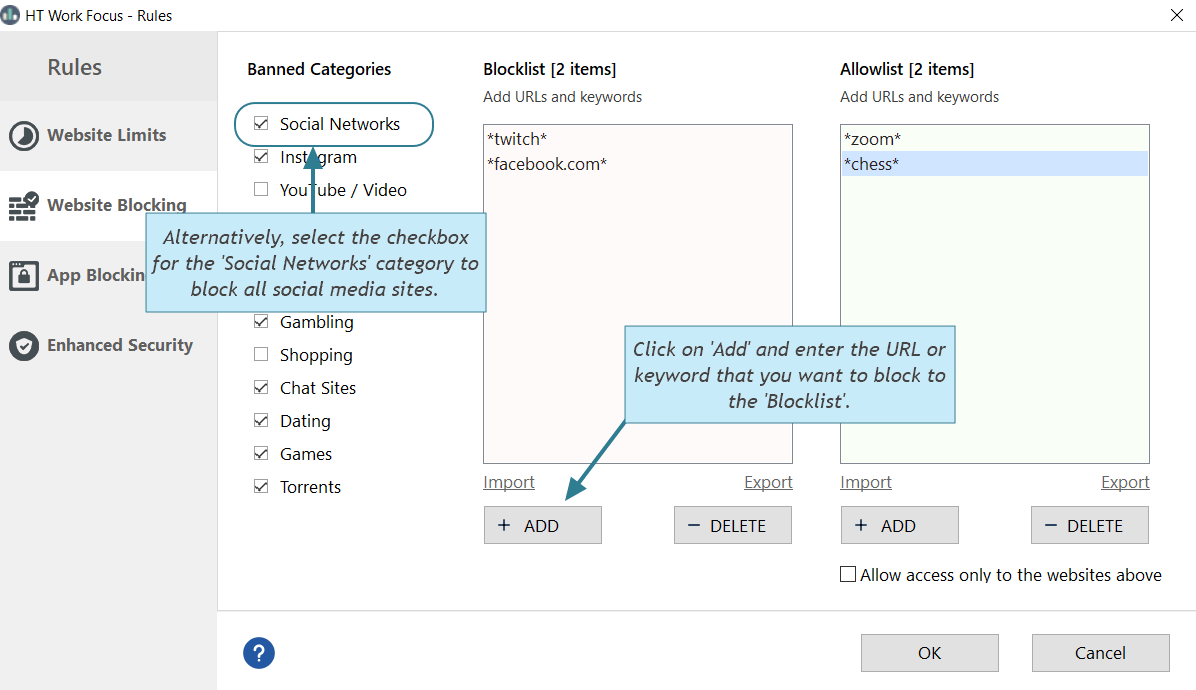 Note! With our software, you can also limit the time the users spend on Facebook instead of blocking it completely.
How to Set up a Daily Limit for Facebook
Go to Website Limiting.
Click Facebook on the list and select Limit.
Specify Maximum Time Allowed or Schedule as needed.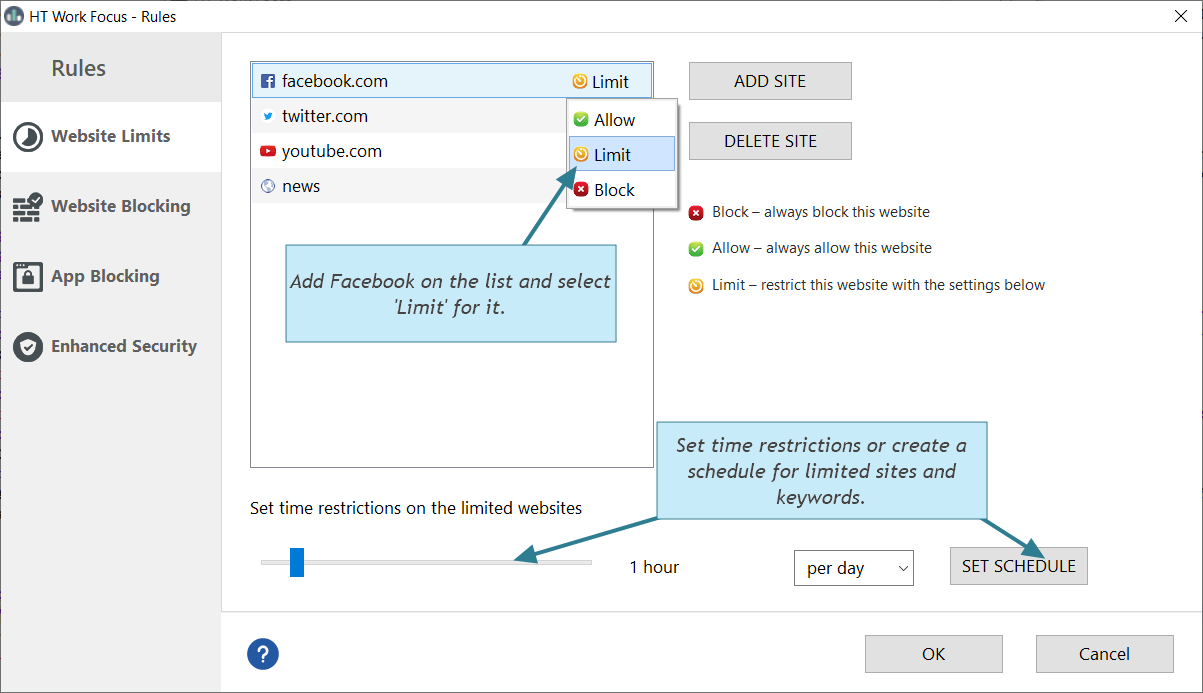 Note! You can block or limit any website or keyword in the same way.
Once you apply the setting, any attempt to access Facebook in any popular browser will fail. The user will see only a blank page. Besides blocking Facebook in Google Chrome and other browsers, our software offers many options:
Limit the time spent on Facebook and other time-wasters
Block unwanted websites, keywords, site categories
Block applications—messengers, games, chats.
Monitor computer activities: websites, applications, etc.
Configure the filter and view logs remotely
Block Facebook in all popular browsers securely and easily with our software!
How to Block Facebook with Google Chrome Options
Google Chrome Desktop version lets you block websites by using its settings. This is a free and easy way to do this. But, this ban can be easily removed or bypassed by proxy servers or anonymizers!
Click the Chrome menu in the upper right corner.
Go down and click Settings. A new window will open.
In the Search Box type "proxy" and click Open proxy settings. Another window will open.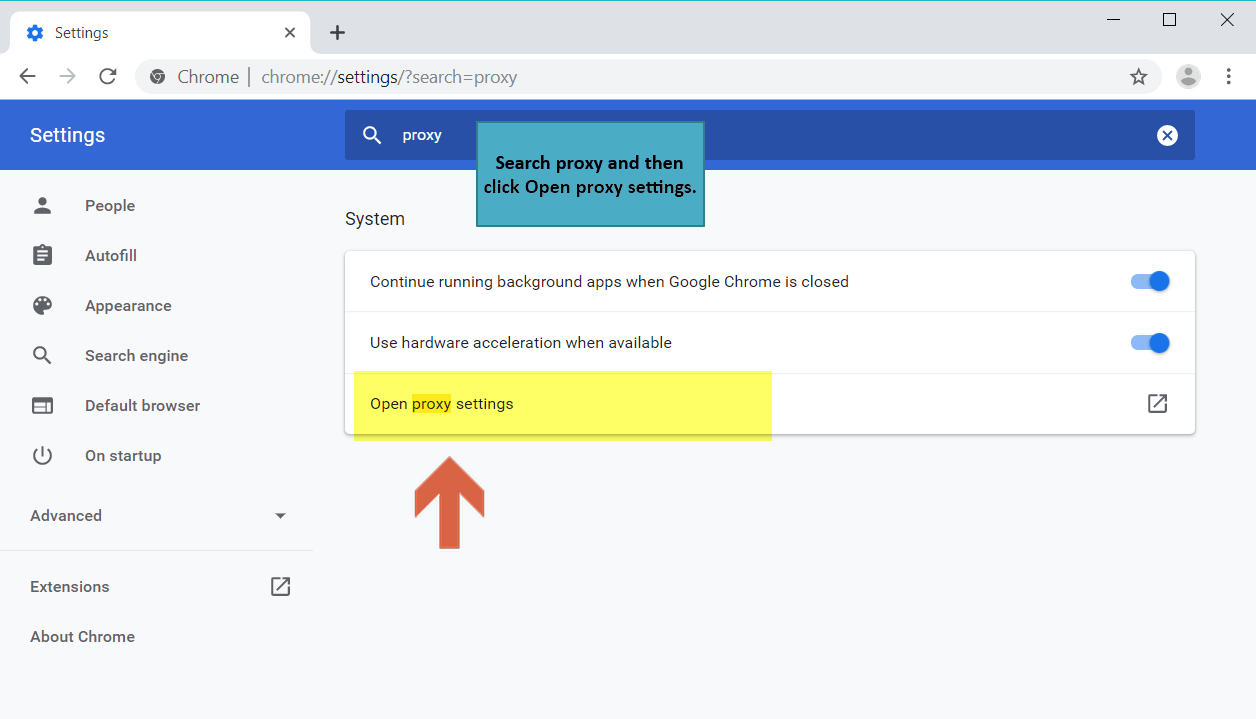 On the Security tab, click Restricted Sites, and then click Sites.
Type "facebook.com" and click the Add button.
Close the window and re-start the computer.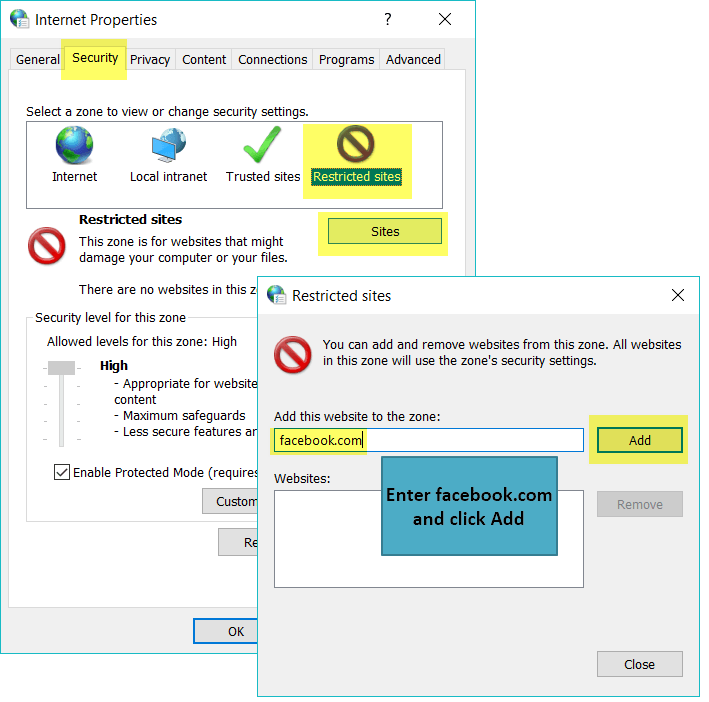 How to Block Facebook with the Hosts File
The Hosts file is a Windows service file. You can add some instructions to this file to block Facebook on your computer. But, this method also can be bypassed by a persistent user.
Open this folder—C:\Windows\System32\drivers\etc.
Double click hosts and select Notepad to open it.
Paste the following text after the 127.0.0.1 localhost line:
# block Facebook
127.0.0.1 facebook.com
127.0.0.1 https://www.facebook.com
Save the file without adding an extension.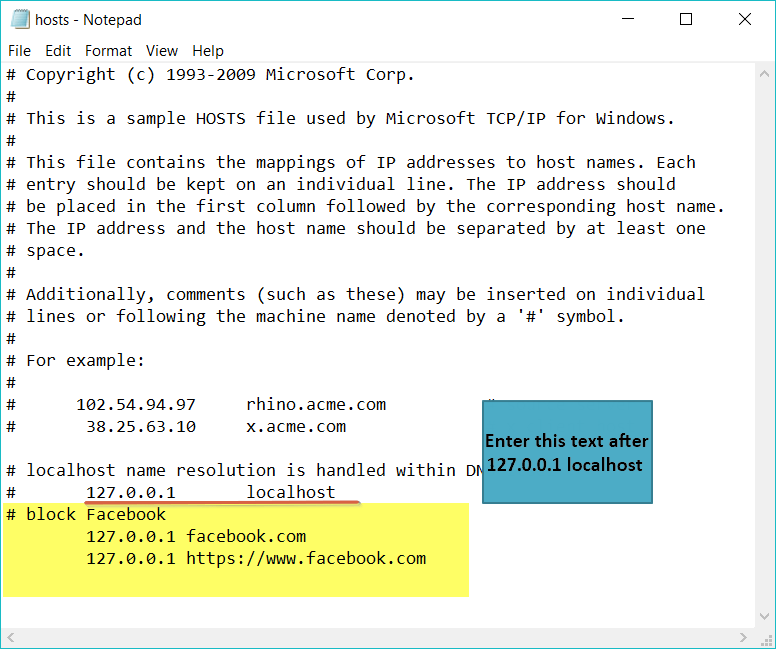 Facebook is one of the most popular social networks. However, many people feel that they spend too much time on the site and want to avoid this distraction at work or while studying.
Parents want their children to spend less time on Facebook and more doing their homework. Employers want their employees to focus on work, not on Facebook. It is not surprising that one of the most popular search requests is how to block Facebook.
When in doubt on how to block Facebook on your computer, choose a 14-day free trial to do it simply and reliably. Get all the benefits and options of our software!