How to Block Programs
You may have apps on your computer which you don't want run. So how to block a program from running. There are many situations when people need to block certain applications. Worried parents who may want to restrict violent games, unsafe chats and torrents. Employers who may want to block non-work related programs. System administrators may want to block software that may harm a computer.
Firewalls only block programs from accessing the Internet but cannot stop programs from being launched. To block a program, you need to use other methods. Here are two ways of blocking unwanted applications.
How to Block Programs with Application Blocking Software
The best way to easily block programs from being launched or from running automatically is to use special application blockers such as HT Employee Monitor for business or HT Parental Controls for home, that let you block any application more effectively and have many other features to control computer use.
There is one more way that allows you to block applications even more easily:
Run the application you want to block.
Go to Applications logs.
Select the application on the list and click the Block app button.
HT Employee Monitor and HT Parental Controls are easy to use, effective programs which allow you to control user activity and internet usage. With the software, you can:
Block specified programs
Block games, instant messengers, payers, torrents and any other applications
Disable access to system programs
Block Task Manager, Registry Editor, System Configuration Utility, etc.
Block social networks
Block Twitter, Facebook in all popular browsers - Google Chrome, Firefox, Microsoft Edge, etc.
Filter websites by categories
Block Porn, Gambling, Drugs, Shopping, Chats, etc.
Block websites by URLs and keywords
Filter your search and block websites in different ways
Record computer activities
Monitor applications, websites, system activity, screenshots
How to Block Programs with Windows Options
Press Windows key and R button together.
Type gpedit.msc and click OK in the appeared window.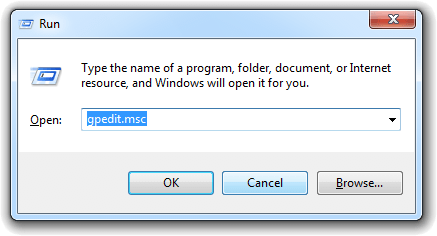 Expand User Configuration > Administrative Templates > System on the left side of the window.
Double click Don't run specified Windows applications on the right side.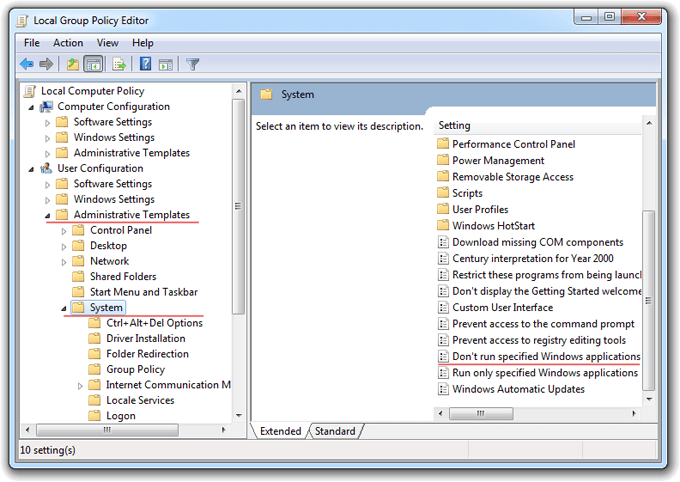 Select the Enabled radio button and then click the Show button.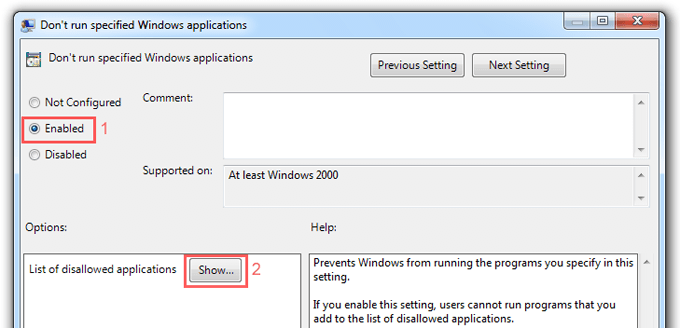 Type in the name of the EXE file you want to forbid.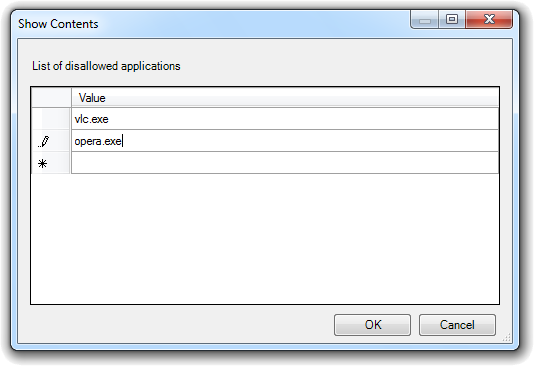 Enter all applications you want to prevent from running.
Save changes and close the windows.
Blocking apps in Windows 7, 8 and 10 does not require another software but it has disadvantages. It can be easily bypassed, because there is no possibility to set up a password on your settings. Other users can do the same and unblock the banned programs. Sometimes it is not always easy to determine a name of the exe file of the unwanted application.
You can block programs more simply and reliably with professional blocking software such as HT Employee Monitor or HT Parental Controls. Try both methods and choose the best.