How to Block Twitter
If you are a system administrator, you must be looking for the best way to block Twitter, Facebook and other sites on your computers. If you are a parent, you may want to limit the time your children spend on social networking sites. Let us show how to block Twitter.
The Hosts file method and blocking Twitter in Internet Explorer are free but imperfect. The best way is to use internet filtering software that allows you to block Twitter more effectively and offers many helpful features
How to block Twitter with blocking software
Website blocking software copes with this task as best as possible. Let us introduce two programs HT Employee Monitor and HT Parental Controls that allows block Twitter and any other sites simply and reliably.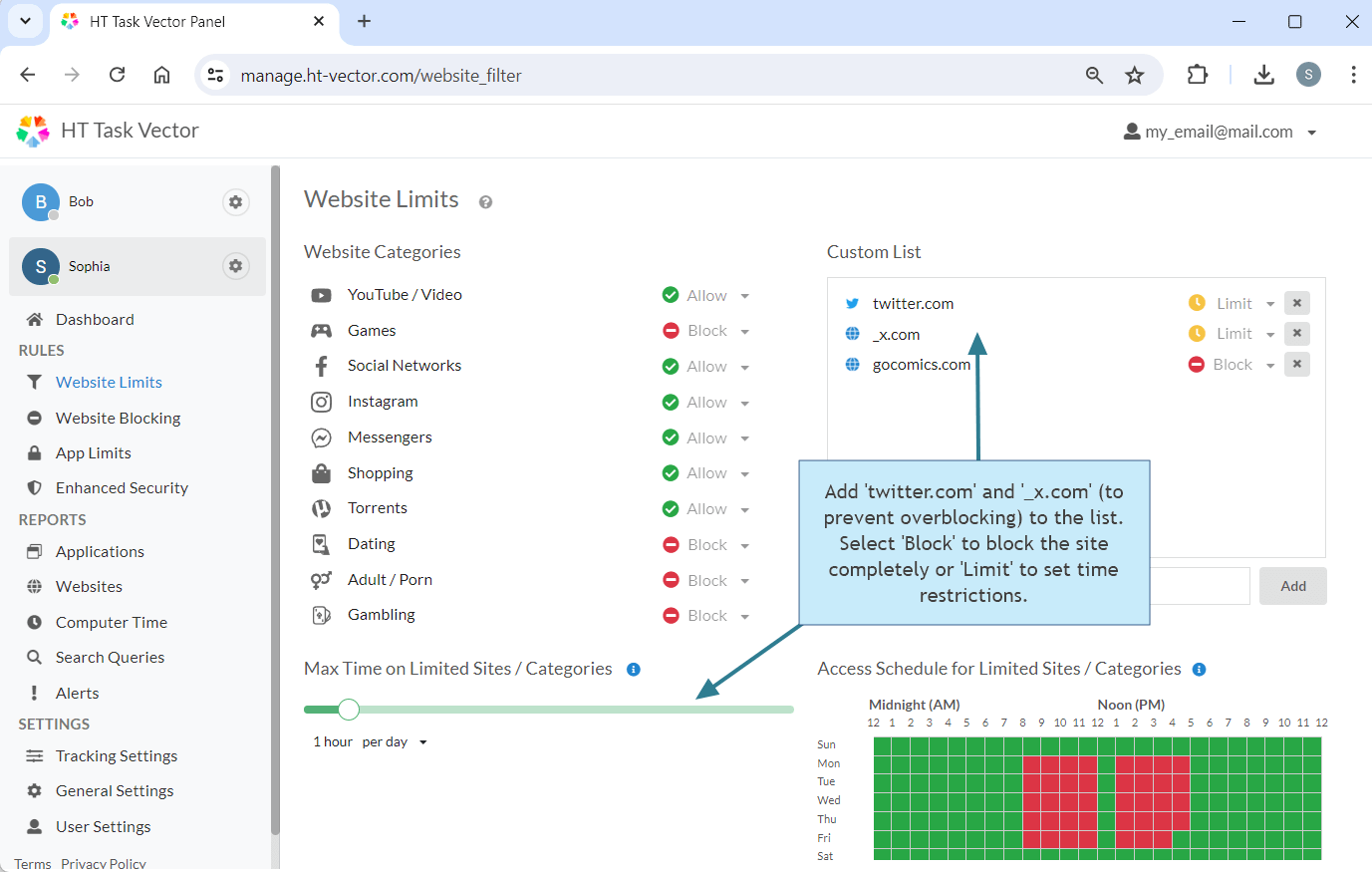 The software supports all versions of Google Chrome, Mozilla Firefox, Microsoft Edge, Internet Explorer and Opera. It automatically detects a browser and blocks forbidden websites in it.
Note! You can limit time on Twitter if you don't want to block it completely. Simply select Limit opposite Twitter and specify Time Limits.
Our software combines an effective internet filter with overall blocking features. It can restrict almost any users' activity. The software allows you to:
How to block Twitter in Internet Explorer
Open Internet Explorer and click Tools.
Click Internet Options.
Open the Content tab.
Click the Enable button.
Click on the Approved Sites tab.
Type twitter.com in the box.
Click Never and then OK.
Enter and confirm your new password.
Click on the General tab and select Users can see websites that have no ratings.
Click OK.
How to block Twitter using the Hosts file
The location of the hosts file for Windows 10, Windows 8, 7, Vista, and Windows XP is C:\WINDOWS\system32\drivers\etc\hosts.
Note! Before changing the hosts file, make a backup and put it somewhere safe, in case you make a mistake.
Open the hosts file using Notepad or another plain text editor.
Copy the following:
# block twitter
127.0.0.1 twitter.com
127.0.0.1 www.twitter.com
Paste this into the Hosts file after 127.0.0.1 localhost.
Save and close the Hosts file.
Reboot your computer to apply the changes.
Try to open the Twitter site.

How to block Twitter simply and reliably
The greatest shortcoming of the free methods described above is that a user can easily bypass them with web-based proxy servers. So, how to block Twitter reliably? The best way is using our professional blocking software.
We recommend two different products to block Twitter. HT Employee Monitor for business and HT Parental Controls for home. Block non-work related activity and make the Internet safe with our software. Try free trial!