How to Block Twitter
Twitter and other social networking sites can take up much of our time and affect our productivity while working or studying. Here is how to block Twitter and other online distractions on your computer.
How to Block Twitter and Other Social Networks
Apps like HT Parental Controls or HT System Administrator can be a big help when you want to block Twitter permanently or set time limits—for yourself, your child, or your team. Resist unproductive browsing habits with a just few clicks reliably blocking specified sites on all popular browsers.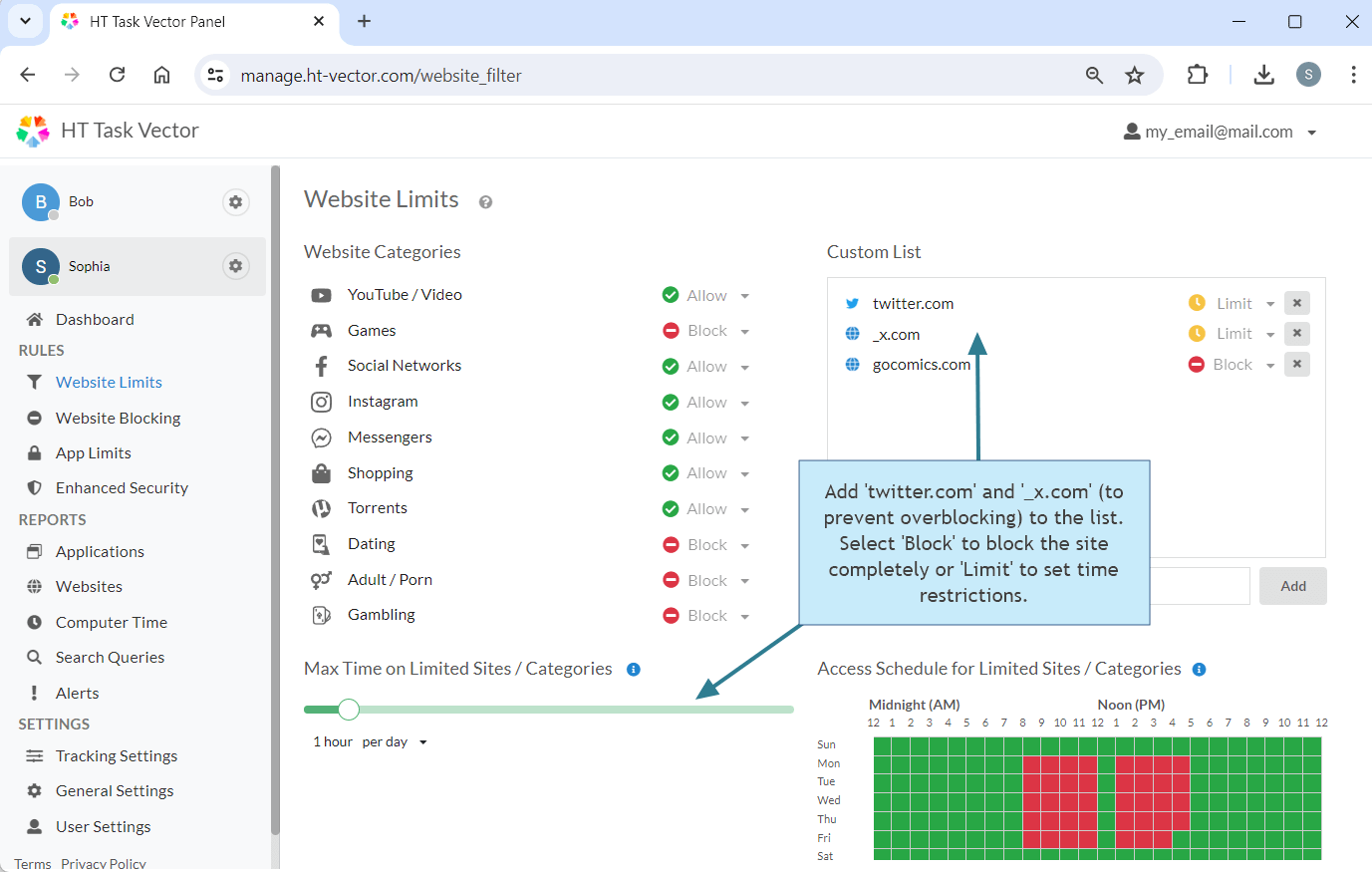 You can block as many sites as you want this way. Just tell the blocker which websites you want to block (like Twitter, YouTube, etc.), and then every time you or your user try to visit them, you'll be redirected to a blank page or another website based on your settings.
How to Set Time Limits for Twitter
Instead of blocking Twitter permanently, you can limit access to it and other time-wasting websites and apps. Set a maximum time allowed per day or/and make a schedule for specific websites and apps. When that time is up, the listed sites will be inaccessible for the rest of the day.
Click Website Limiting on the dashboard.
Click Twitter and select Limit.
Set time rules for the limited websites with the Maximum allowed time and Schedule.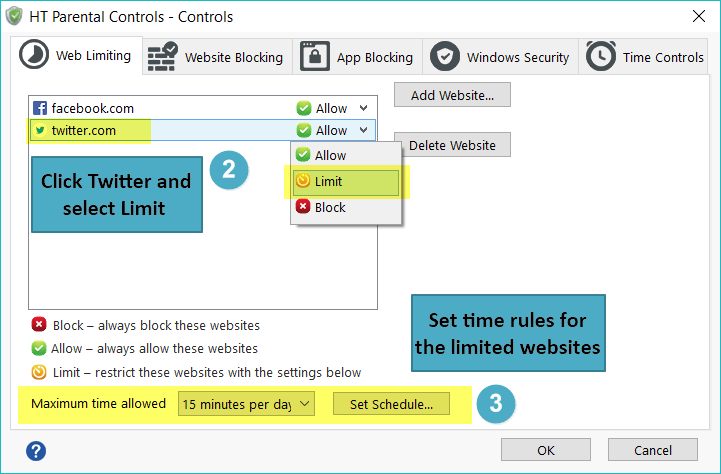 The software supports all versions of Google Chrome, Mozilla Firefox, Microsoft Edge, Internet Explorer, Opera, and Brave. It automatically detects a browser and blocks restricted websites on it.
Our Feature to Avoid Distractions
Deciding to download and install our programs, you get the opportunity to block anything you want—websites, games, messengers, or whatever else and track the time spent browsing websites and apps.
Block Social Networks
Block Twitter, Facebook, YouTube and other 37 social networks with a single setting
Block Applications
Block time-wasting apps like games, messengers, players, or any app you want
Remote Control
Configure the filters and view statistics of websites and apps remotely
Track Websites and Apps
See how much time you spend on each website and app to find where you waste time
Block Website Categories
Block websites that fall into questionable categories: Adult Content, Gambling, Violence, Drugs, etc.
Set Time Limits
Make a schedule, set time limits or break intervals for specific sites/apps instead of blocking them completely
How to Block Twitter Using the Hosts File
You can block Twitter by changing the Host file (a Windows system file).
Note! Before changing the hosts file, make a backup and put it somewhere safe, in case you make a mistake.
Open the hosts file C:\WINDOWS\system32\drivers\etc\hosts with Notepad or another plain text editor.
Copy the following:
# block twitter
127.0.0.1 twitter.com
127.0.0.1 www.twitter.com
Paste the text into the Hosts file after 127.0.0.1 localhost.
Save and close the Hosts file.
If Notepad does not allow saving the file without an extension, save it as suggested. Then rename the file in Windows Explorer to delete the extension and replace the existing file with yours.

Unlike browser extensions or the host file mentioned above, which can be bypassed just by deactivating or changing them, our software has a powerful defense against efforts to avoid it. It keeps blocking even if your users try to override your restrictions with anonymizers or end the program in Task Manager.
Consider using HT Parental Controls or HT System Administrator, all-in-one time management programs, to resist unproductive computer habits and beat digital addictions. Get a 14-day free trial—no credit card required!