HT Parental Controls 16.1.1
Make your child's computer experience healthy and happy
Monitor all activities
Block inappropriate content
Control games and apps
Limit your child's computer time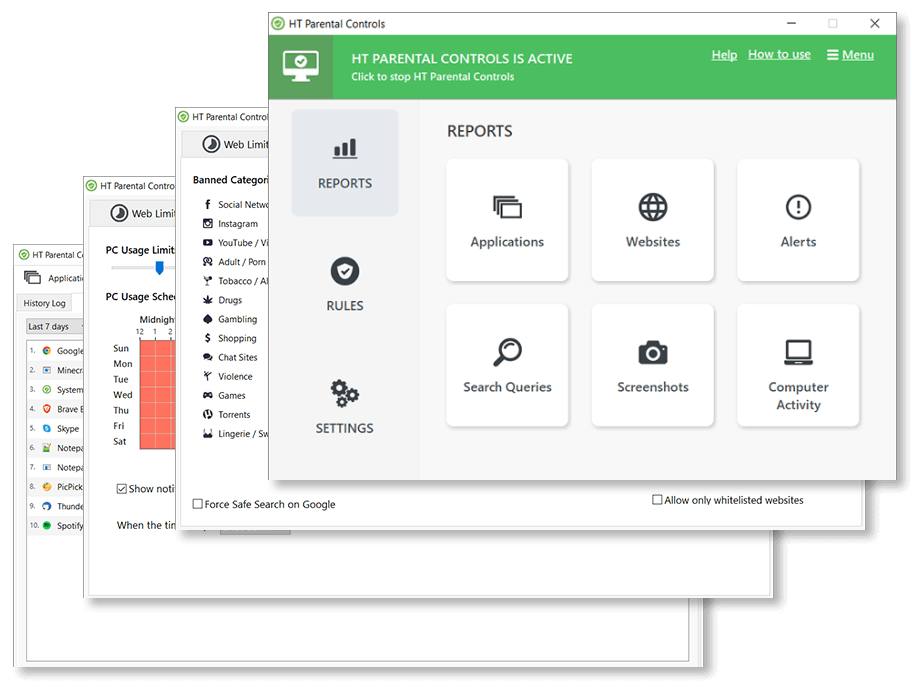 Protect Your Children Online and Offline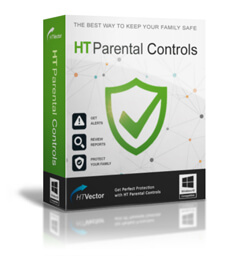 Install HT Parental Controls and protect all your family members, both when online and offline. With plenty of features ranging from website blocking and time controls to screen capture and email reporting the program will be your reliable assistant. Keep your kids safe on the Internet. Filter content and block all inappropriate websites and applications with HT Parental Controls. Unlike other programs, we didn't stop at blocking but supplied our program with every possible monitoring feature giving you full access to what's going on your computer.
Monitoring Features
Get full access to everything that happens on your child's computer
Keystroke Monitoring
Parents need to protect their child from all dangers. All typed keystrokes are recorded to protect your child from the negative impact of communication with potentially dangerous strangers. Our keylogger works quietly in the background without being detected, providing you with a keystroke log along with other useful data.
Screenshot Capturing
When capturing keyboard is not enough, screenshots will make everything clear. We understand that a picture can sometimes be worth a thousand keystrokes. This is why screenshot capturing is so important. HT Parental Controls silently captures the screen once per 5 minutes or customized interval.
Website & Application Monitoring
The software monitors all visited websites and launched applications, providing parents with detailed reports of each activity. With HT Parental Controls, you can easily learn what your children do on the computer, see whether you need to block something additionally or make sure that everything is under control.
Blocking Features
Set your rules of computer use and keep your child away from cyber threats
Website Filter
With HT Parental Controls you can be sure that inappropriate content will not reach your child. You can block predefined content categories, block and allow any websites and keyword, limit the time your kids can spend on time-wasters like social networks, video games, chats, etc. Take control over that they can browse and establish what is allowed and what is not.
Application Filter
Easily block any application on the child's computer. Block games, messengers, chats, any unwanted software. Choose programs to block from the list of popular applications or add a custom application located on your PC. Selected programs will be completely blocked or time-limited according to your settings.
Time Controls
With our parental time control software, you can easily control how much time your child can spend on the computer. Set up daily and weekly limits, schedule for each day of the week or a limit on the maximum number of hours. Once the allowed time is reached, HT Parental Controls automatically turns off the PC.
Remote Control
Email Reports
With this unique feature, you can get email reports with logs as frequently as every hour. There is no need to have access to the monitored computer. Whether you are far away from home or simply want to monitor your kids from another PC, remote reporting will allow you to supervise your child's computer from anywhere.
Remote Management
View all logs and configure all the filters on the go. No more discuss, block the websites your child is currently viewing or turn off the PC in real time. Set up your bans and correct the filters remotely from your computer on the same network. Simply enter your child's computer IP into the address line of your browser to access the remote console.
Get started with three 3 simple steps!
Step1


Download and Install

Start using the software in a few minutes. Download and install HT Parental Controls on your child computer.
Step2


Set up the Filters

Specify what is allowed on your computer and what is not. Remote configuring is available.
Step3


Relax

The computer is under protection. View logs and correct your rules if needed remotely. No PC experience is required.
More Benefits
Keyword Blocking
With keyword blocking you can block any website contains a keyword from your list. Simply add unwanted keywords to the Banned Websites list to block thousands of sites whose content is different from your requirements. Supervise websites your child visited and correct your lists. Our smart filters block inappropriate content even in private browsing mode.
Individual User Settings
The software allows you to set different control levels for certain users. You can enable monitoring, website and application filters, time controls, and windows security permissions on an individual basis to tailor restrictions. Create unique security settings that are age-appropriate for each child in your family.
All Browsers and Languages
The software supports all major browsers Google Chrome, Microsoft Edge, Mozilla Firefox, Internet Explorer, and Opera. If your child uses another browser, you can easily determine it with logs and block. HT Parental Controls is multilingual and can block inappropriate content in English, German, French, and Russian. As for banned keywords and local URLs, any language is supported.
Strongly Protected
We paid extra attention to security measures and fortified HT Parental Controls against bypassing. The program and its filters are securely protected from kid's nasty attempts to get forbidden content or games. Don't forget to set up a password and prevent access to Windows options from the Windows Security tab to add an extra layer of protection.
Stealth Mode
Working silently in background HT Parental Controls protects but does not disturb. Hide the program in a few clicks with a built-in option so users cannot detect it and try to circumvent the parental controls. When hidden, only the person who knows the access hotkeys and password can access the software.
Easy to Install and Use
HT Parental Controls makes it simple to monitor and manage kids' computer. We designed it in a way that less computer experienced parents will find it easy to understand. The software can be installed in less than a minute and has an easy, intuitive interface. A detailed manual explains every feature clearly and our support team is always ready to help.
Our Customers Recommend
Extraordinary software. I tried many parental programs and not one met my needs. My son always found ways to get around the bans. HT Parental Controls is strong enough. It works great. Exclusive for my son. Thank you!
- David Giles, Canada
I like it. It allows me to monitor my kids so I'm not worried about them while they're using the computer. I set time controls to make them do their homework. I'm impressed with the software and recommend it to all parents.
- Anna Lopez, USA
I have used it for quite some time. HT Parental Controls does not slow down Internet speed. It's simple and at the same time has many features. It reduces the friction involved with being a parent. I was lucky to find you. You are the best I can say with dead certainty.
- Frankie Flanagan, UK