How to Block Websites on Chrome
You may want to block websites on Chrome for different reasons. Many websites distract people from their work, and others are not suitable for children. Google Chrome blocks thousands of sites that contain viruses. However, it does not block websites by their content, and it will not warn you if you spend too much time on social networks. Here are a few ways how to do it.
1. How to Block Websites with a Website Blocker
Website blocker tools can help you block anything you want. Add unlimited websites and apps to blacklists, schedule them, block websites based on categories or keywords, allow only trusted sites, track activities. HT Parental Controls and HT Work Focus are all-in-one blockers that do much more than that.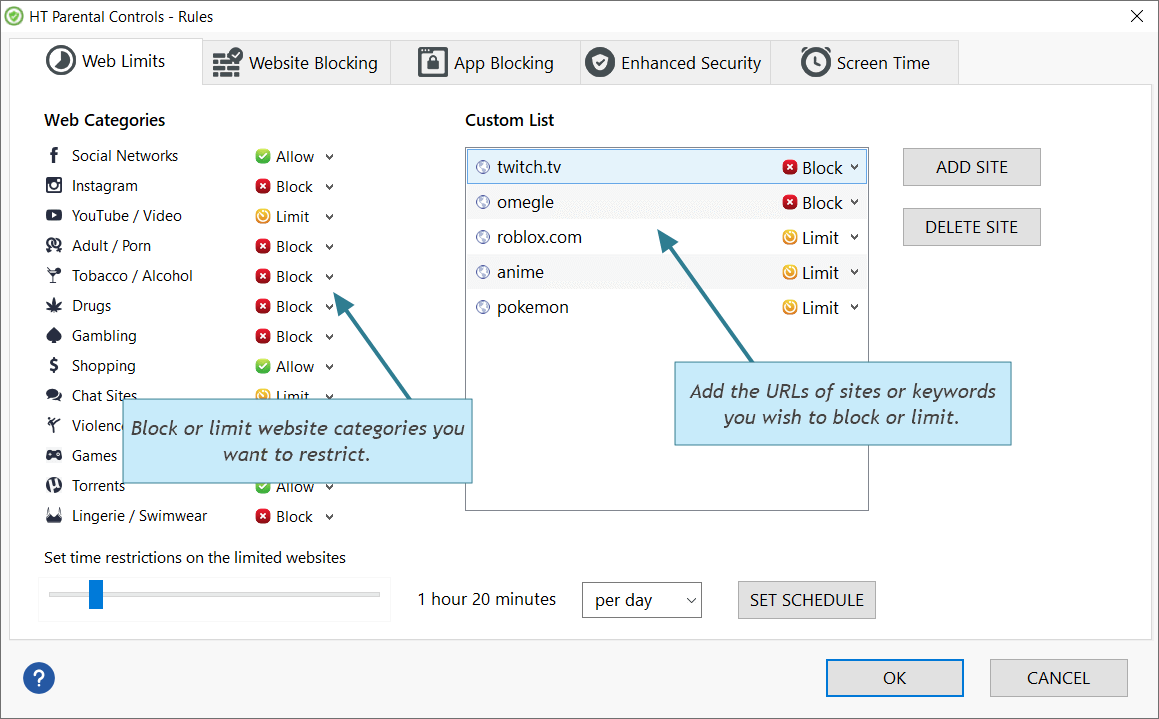 Note! Our software lets you block websites based on categories you choose. For example, select the Chart Site category, to block Omegle and hundreds of similar sites with one click.
2. Set Time Limits for Distracting Sites
If you need a little extra help to focus and you do not want to block websites completely, our software offers you feature like Website/Application Limiting. You can set a schedule or limit the time you or your users spend on certain computer activities. For example, you could limit your child to twenty minutes a day on YouTube.
Go to Website Limiting.
Add the websites you find most distracting.
Set the Maximum Time Allowed per day and/or make a Schedule.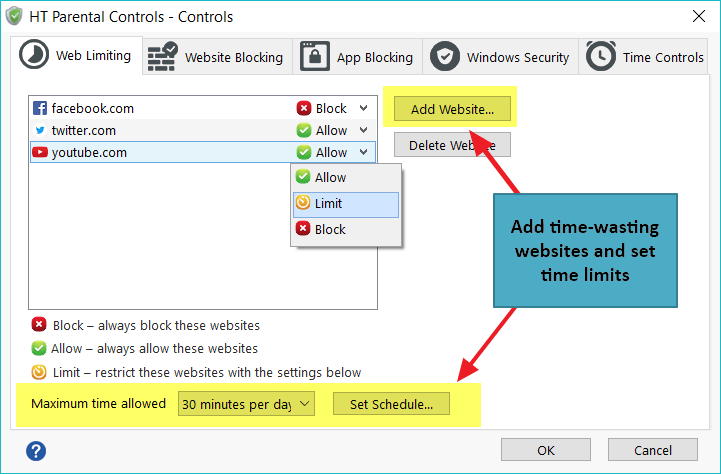 Get this easy way to block websites and check its effectiveness.
3. How to Block Websites with a Chrome Extension
You can use Google Chrome add-ons that allow blocking websites. BlockSite is a Chrome browser extension that lets you block sites and keywords on Chrome.
Go to the BlockSite page.
Click the Add to Chrome button.
Open the installed extension page.
Add websites to the list.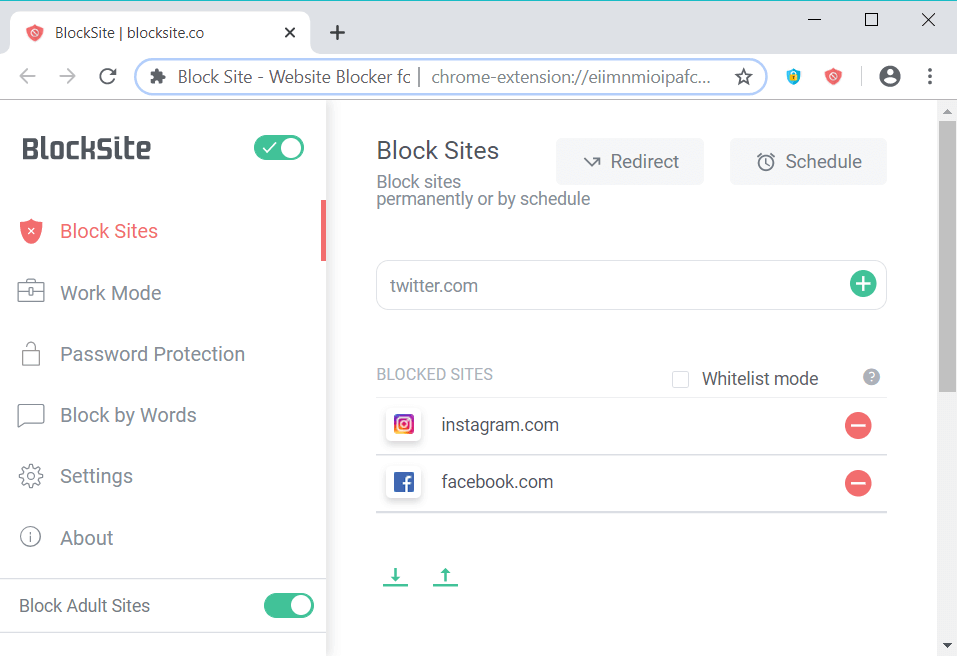 Pros: BlockSite is a free and straightforward tool that also allows you to block adult websites.
Cons: It can be easily uninstalled, just like any other extension. Naturally, blocking websites on Google Chrome is not valid for other browsers. That also may be true for different user accounts.
Need Reliable and Universal Protection?
If you find yourself needing something more reliable, our website blocking software is a great choice.
Impossible to Bypass
Our software is strongly protected from any efforts to bypass it. Its multifaceted protections do not allow users to uninstall the program, change its settings, or bypass your restrictions with anonymizers and other tricks that users might try if they are not happy with your blocks.
Multi-browser Support
Our software supports all versions of these major browsers: Google Chrome, Firefox, Internet Explorer, Microsoft Edge, Opera, and Brave.
Cross-user Support
Install our blocker from your account and be sure that it works on all the selected accounts. Even if a user has admin rights, he could not avoid your rules for computer use. All unwanted sites and applications will be blocked for selected users.
Get Reports of Computer Activities
Track time spent browsing websites and apps. So, you can see where the user spends the most time on daily, weekly, and monthly and choose which sites/apps you want to block or limit.
Application Blocking
Apps like games, messengers, chats, players, etc. can be even more time-wasting or dangerous than social networks. With our blockers, you can block/limit unwanted applications as simply as websites.
Remote Management
Set up the filters or view logs remotely. After installation, you can change your restrictions and view reports from another device on the same network. Or you can block a video or even turn off your child's PC without accessing it.
HT Parental Controls and HT Work Focus are designed not just to block unacceptable or distracting websites. They are all-in-one tools to overcome time-wasters and unacceptable or dangerous computer activities. Block websites on Chrome and other browsers with a 14-day free trial.