How to Block a Website in Google Chrome
You may want to block a website or websites on Google Chrome for different reasons. Many websites can distract people from their work and many of them are not suitable for children. Google Chrome blocks thousands of sites that are dangerous or contain viruses. However, it does not block websites by their content or will not warn you if you spend too much time on social networks or entertainment sites.
In the article, you can find a free way to block a website in Google Chrome with its options. However, it has serious disadvantages.
How to Block a Website with Software
If you want to block websites securely and easily, let us introduce to you, monitoring and blocking software - HT Employee Monitor for business and HT Parental Controls for home.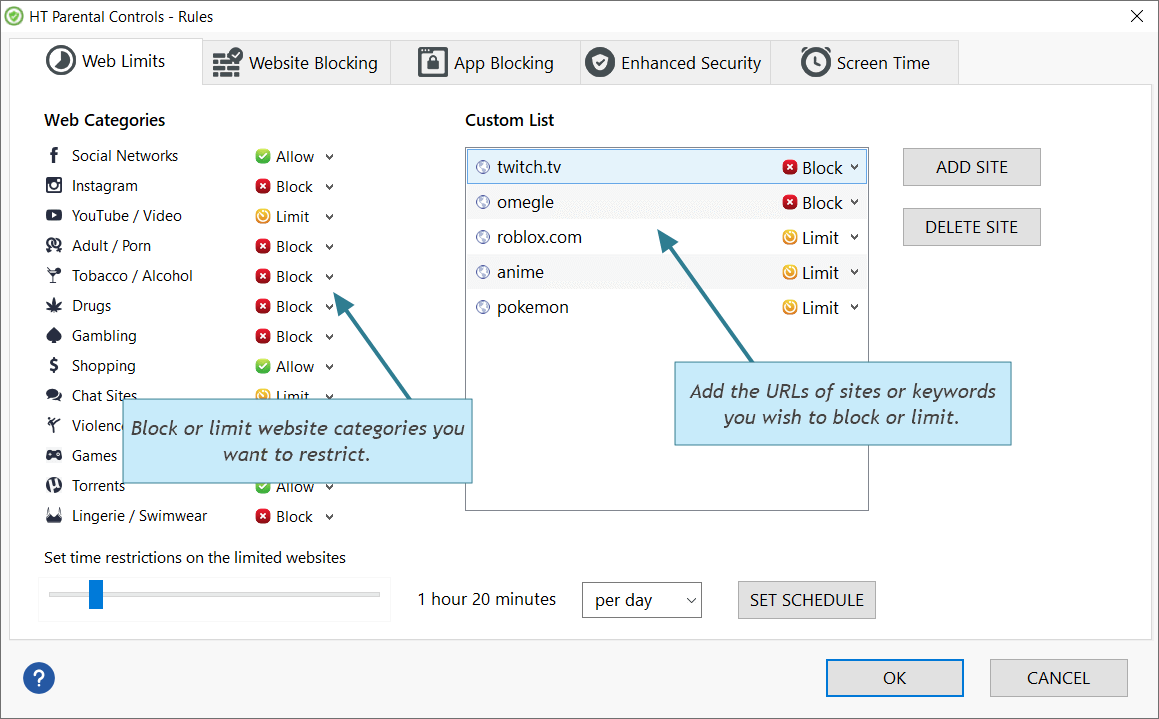 You can limit the time a user can spend on a website, instead of blocking it completely.
Go to Website Limiting.
Add the website and select Limit.
Specify how much time is allowed or set up a schedule for limited websites.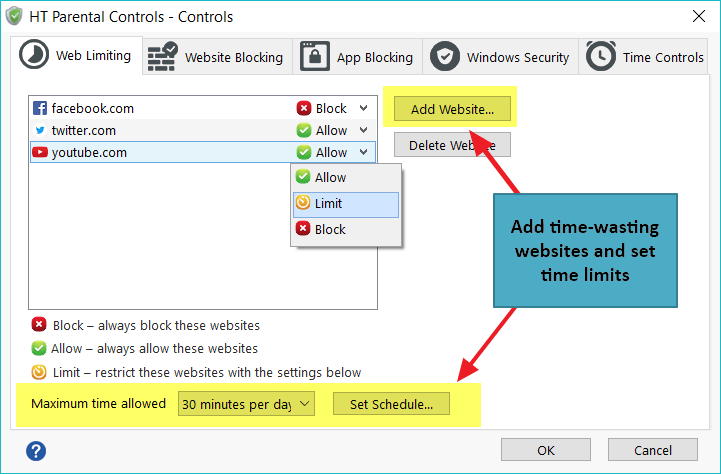 Try this easy way to block websites and check its effectiveness.
How to Block a Website with Google Chrome Options
Launch Google Chrome.
Click the Wrench symbol in the upper right corner.
Select Settings.
Click Show advanced settings at the bottom.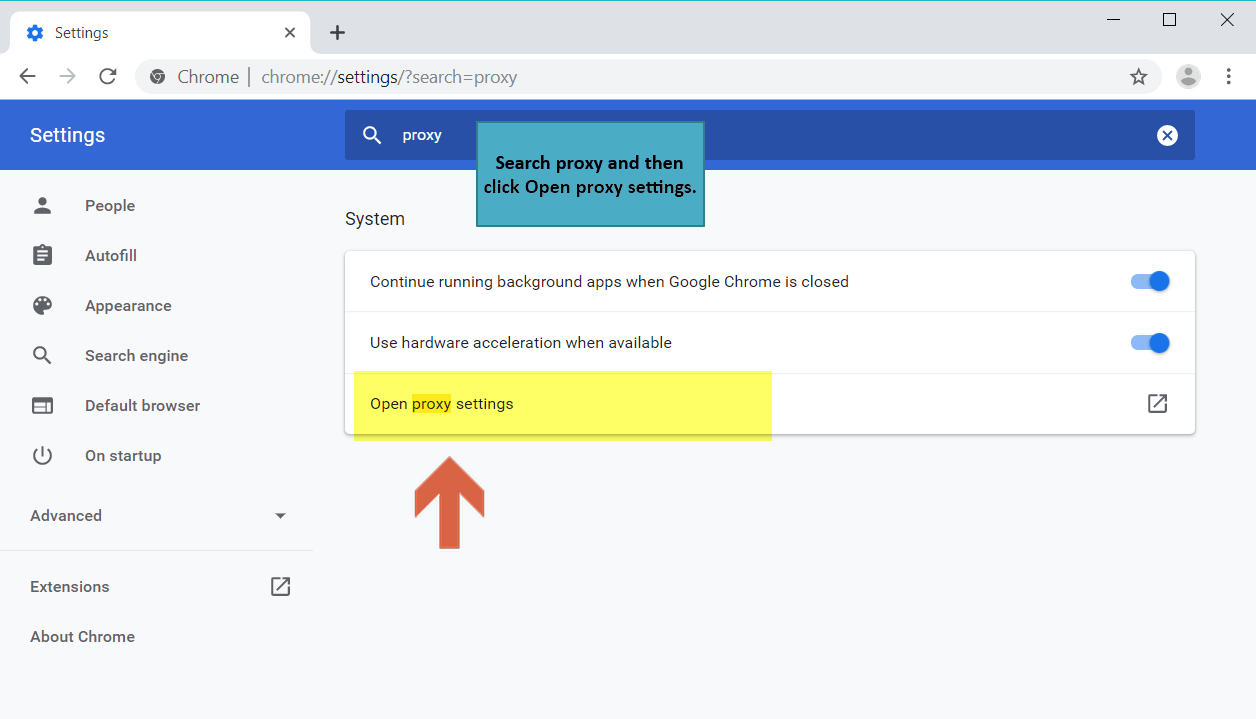 Choose the Change Proxy Settings button.
On the Security tab, click Restricted Sites and then click on Site.
Enter a URL of the unwanted website. For example, to block YouTube enter www.youtube.com, and click the Add button. Learn how to block YouTube
Close the window.
Unfortunately, this way of blocking websites has disadvantages.
Disadvantages of blocking websites with Google Chrome options
1. Impossible to block groups of websites or block websites by category
For example, if you want to protect your children from adult content, you need to enter the URLs of thousands of adult websites. Moreover, this will be useless in a month because a thousand new websites will have entered the Internet. In such cases, the most reasonable solution is to block websites by category. Unfortunately, Google Chrome does not offer such opportunity.
2. Google Chrome blocking is easy to bypass
Launching another browser or using an online anonymizer is enough to visit a banned website. In addition, the ban can be easily removed, for example, in the same way it was set. Other methods of bypassing bans can be easily found on the Internet.
3. Not universal
Naturally, blocking websites on Google Chrome is not valid for other browsers. This may be true even for other user accounts. For example, if you blocked a website in Google Chrome under your computer account, it can be opened under a different account.
4. It can block just a website main page
Unfortunately, it's true. If you banned facebook.com, a user can easily get facebook.com/ladygagathe for example. Entering into Google Chrome all pages of an unwanted website just can't be done.
HT Employee Monitor and HT Parental Controls are free from these disadvantages and have many other features that you can find useful. They allow you to:
Block websites by URLs or keywords
Block both HTTP and HTTPS websites in all major browsers.
Block categories of websites
Block social networking sites, adult content, chats, games, etc.
Block all websites except whitelisted
Block all websites and allow only trusted from your list.
Monitor user activities
Visited websites, launched applications, screenshots, etc.
Emailed reports
Get reports with all recorded logs by email.
Manage filter remotely
Set up the filters or view logs remotely.
We suggest you take advantage of our free trial period. Try blocking a website with Google Chrome options, and then with our software during the 15-day free trial.