How to Block Facebook
Do you want to block Facebook and other sites, like Pinterest or YouTube, on your computer, to avoid these distractions for you, your team at work, or your ten year old? Read this article to find out how to block Facebook or create time rules for usage, in a very simple way. It is suitable for all versions of Windows, from Windows 7 to Windows 10, and on all popular browsers.
How to Block Facebook with Blocking Software
The best way to block the Facebook website, with no way to override your limits, is to use special software such as HT Family Shield for home or HT Work Focus for business. The software makes it easy to block any websites with a few clicks. And it has many other useful features.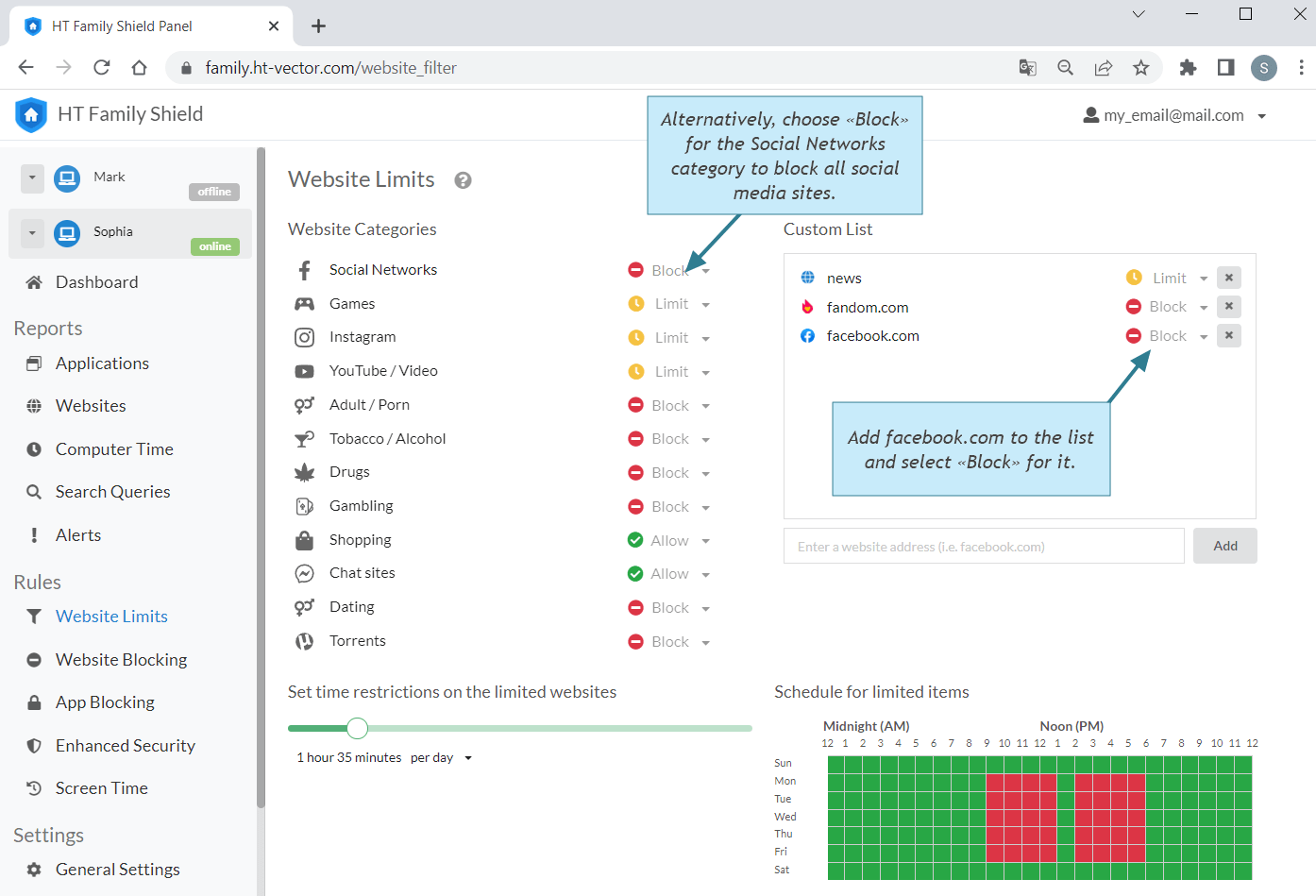 Once Facebook is blocked, your users won't be able to access the site on any popular browser, even in private browser mode. You can disable or enable the filter for different users, and start or stop your bans whenever you want, from any place you can get to your Online Family Dashboard.
How to Set Time Limits for Facebook
Create time rules for Facebook and other sites, to keep your users more productive, while still allowing them to have fun on the computer. Best of all, you can block Facebook during work time, and let it at launch, after work, or when children's homework is finished.
Click Website Limiting and add facebook.com to the list.
Create time rules for restricted sites. It can be the maximum time per day a user spends on the sites, and/or you can make a schedule for them.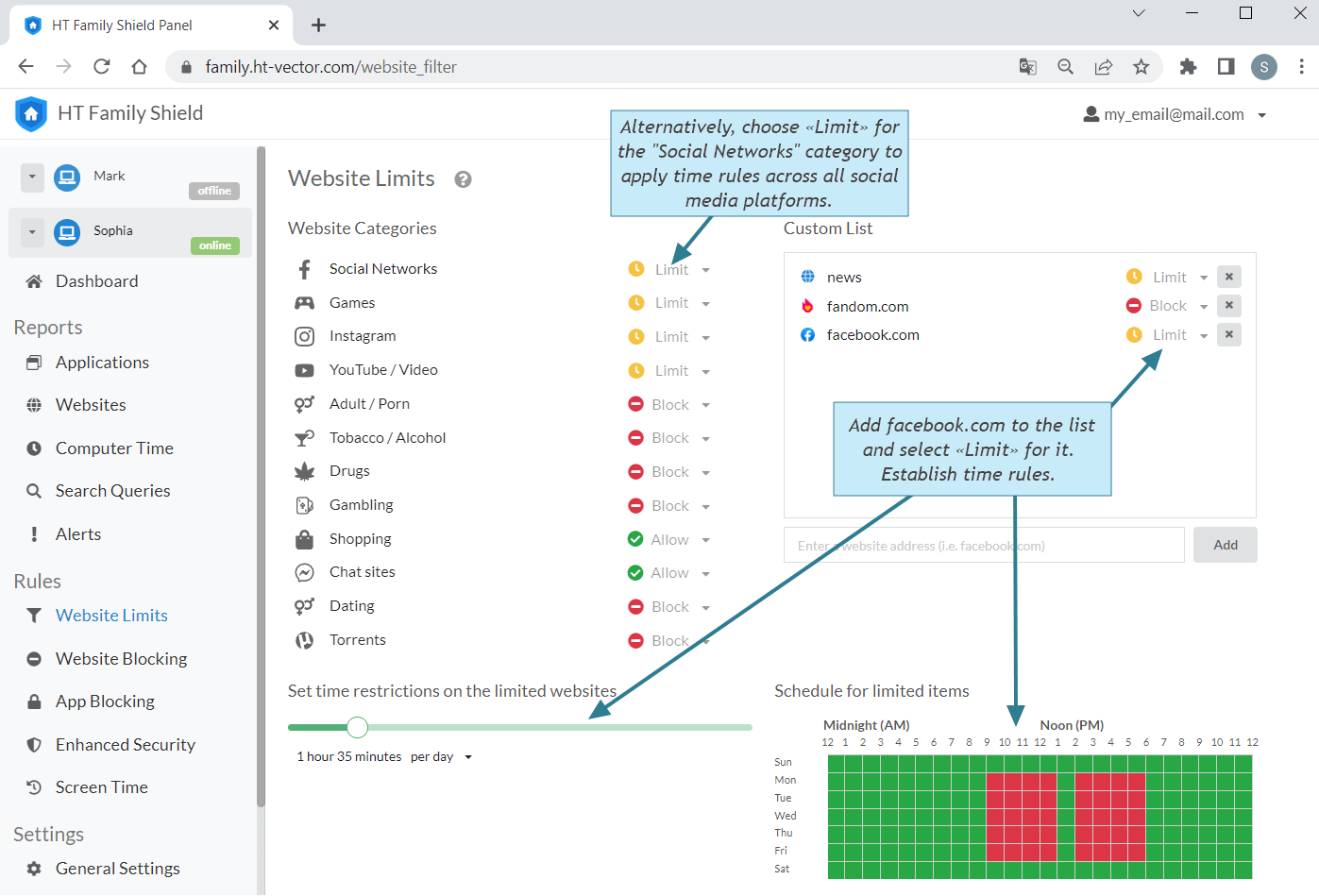 Learn more on how to limit time on Facebook
Now the Facebook website is blocked or limited for your users in accordance with your settings. If your user tries to access the banned site, he will get an empty page.
Besides blocking Facebook on the computer, HT Work Focus and HT Family Shield have many other options. Our software combines monitoring and blocking features, and it lets restrict any computer user activity.
Cross-Browser Support
The app supports all popular browsers and has strong protections from any efforts to bypass it.
Restrict Access to Any Applications
Block games, instant messengers, browsers, and so on.
Monitor Computer Activities
Monitor visited websites, launched programs, computer time, etc.
Block Keywords
Block inappropriate keywords from search and results.
Remote Management
Configure the filters and view logs remotely from your Online Family Dashboard.
How to Block Facebook Using the Hosts File
The host file is a Windows service file that is also used by some browsers. You can add some instructions to the file to block certain websites on your computer.
Note! Make a backup of the hosts file and put it somewhere safe, in case you make a mistake.
Open the hosts file C:\WINDOWS\system32\drivers\etc\hosts with Notepad or another plain text editor.
Copy this:
# block facebook
127.0.0.1 https://facebook.com
127.0.0.1 login.facebook.com
127.0.0.1 www.facebook.com
127.0.0.1 blog.facebook.com
127.0.0.1 apps.facebook.com

Paste the text into the Hosts file after 127.0.0.1 localhost.
Save and close the Hosts file.
Since you cannot save the file without an extension, save it as your text editor suggests. Then open the folder with your Hosts file, select it and press F2 to delete its extension while renaming.
Replace the existing Hosts file with yours.
Restart your computer to apply the changes.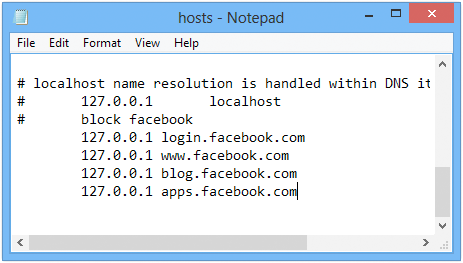 Note! This method of blocking websites have disadvantages. Users can bypass your ban.
When you block Facebook with the Hosts file, users can access Facebook through anonymizers. He/she can visit an anonymizer, enter the needed URL, and access the restricted website on its behalf. The problem is that you can block all thousands of anonymizers.
Pay attention that your user can launch another browser that does not use the Host file or change the hosts file.
So how to block Facebook reliably in all top browsers independently of Windows version and make it impossible to unblock the website. Use HT Work Focus for business and HT Family Shield for home. Get a 14-day free trial and test all the benefits of our software.