How to Block YouTube
YouTube is the most popular video-sharing site. In 2016, on average, each visitor spent on YouTube 50 minutes per day watching a video. Many parents and employers sooner or later come up with an idea to block YouTube or limit time on it.
This article describes two ways how you can block YouTube or limit access to it on your PC. Each method has its pros and cons. If you are not ready to pay for your child's safety or increase employee productivity, then pay attention to the second method. It's entirely free but has some disadvantages. If you are searching for a more reliable way of blocking YouTube, then pay attention to special software and the first method.
How to block YouTube in all browsers using software
The most simple way giving most reliable results is to block YouTube with filter software. While blocking YouTube solves one of the problems, we suggest looking at the issue comprehensively and solving it individually using a professional program specially created for this purpose.
HT Employee Monitor and HT Parental Controls allow you to simply and reliably block any site providing you with full control over all computer activity.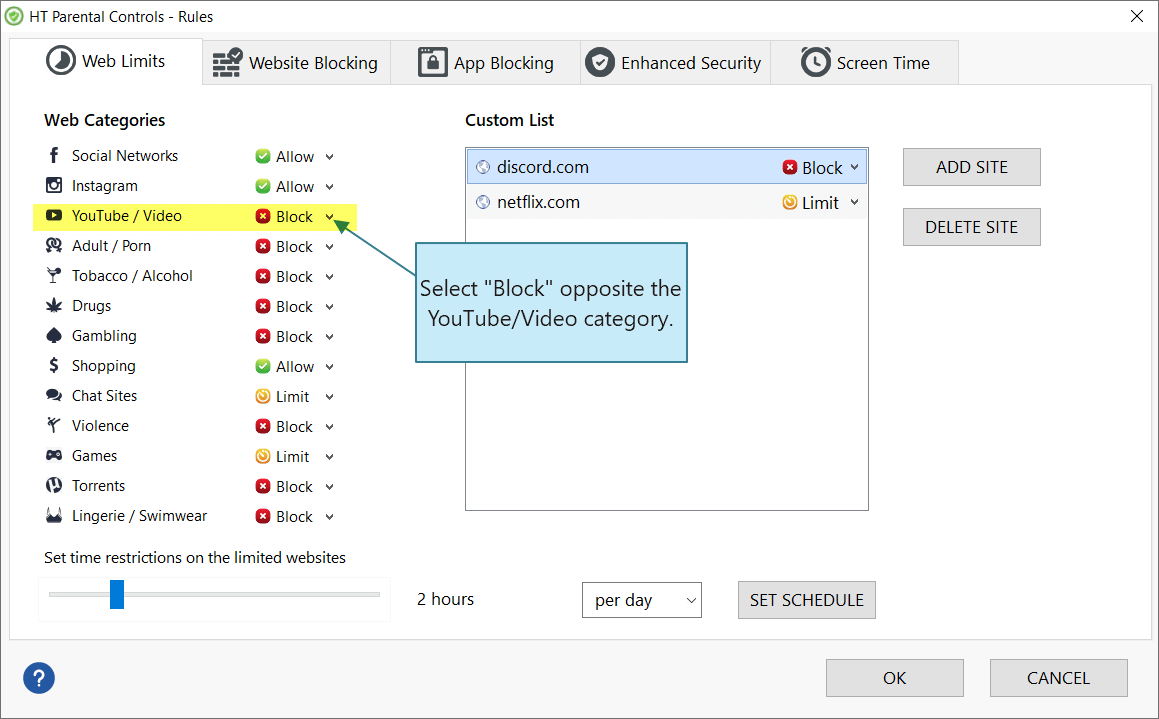 Note! To limit time on YouTube, select Limit and specify the amount of time users may spend on the site during the day or during the scheduled time.
The software allows you to block or limit any website, block thousands of sites from selected categories, block all websites except whitelist and much more in a few clicks. Try it now!
How to block YouTube using the Hosts file
The hosts file is a service file of Windows. Changing it, you can block access to certain sites.
Open notepad as administrator.
Click File > Open and browse to C:\windows\system32\drivers\etc\.
Change the file extension from Test Documents (*.txt) to All Files (*.*) to see the hosts file and open it.
Under 131.0.0.1 localhost enter '131.0.0.1 youtube.com' as on the screenshot.
Save the file.

Benefits of Using Blocking Software
If you decide to block YouTube on your computer, then most likely you are faced with the task of protecting your child online or improving employee productivity. These tasks are more complex than just blocking YouTube on the computer. Sooner or later you can encounter other problems the solution of which we are conveniently combined in one program. Let me introduce you software - HT Parental Controls and HT Employee Monitor are comprehensive solutions for you, your family or company.
Using a single software solution to manage internet access and other computer activities you can:
Take the opportunity to test the programs with 15-day free trials!