How to Block YouTube
We all know how YouTube and other websites can waste time. You can block them permanently or set time limits—for yourself or someone else. Here's how to do it on your computer.
How to Block YouTube Using Software
If you want a reliable and easy way to block YouTube and other time-wasting websites, you can use special filter software. HT Parental Controls and HT Work Focus allow you to block or limit any website, block thousands of sites from selected categories, block adult sites, block all websites except those whitelisted, and much more.
Blocking YouTube in all popular browsers takes just a few simple steps:
Install and open the software.
Go to "Website Limiting".
Click YouTube and select "Block".
You can block as many sites as you want this way.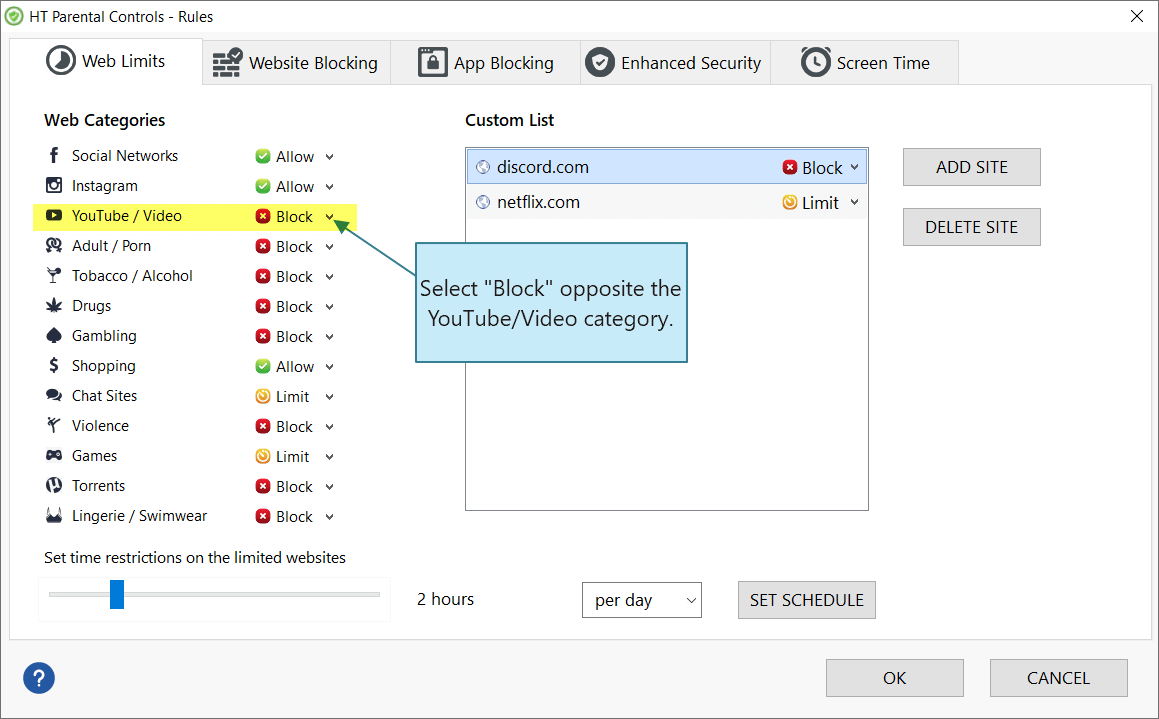 How to Set Time Limits for YouTube
With our software, you can set a daily limit or make a schedule for specific websites. When time expires, those websites will be inaccessible.
Open the software and go to "Website Limiting".
Click YouTube to select it and choose "Limit".
Set the daily "Maximum Time Allowed" and the "Schedule" as needed.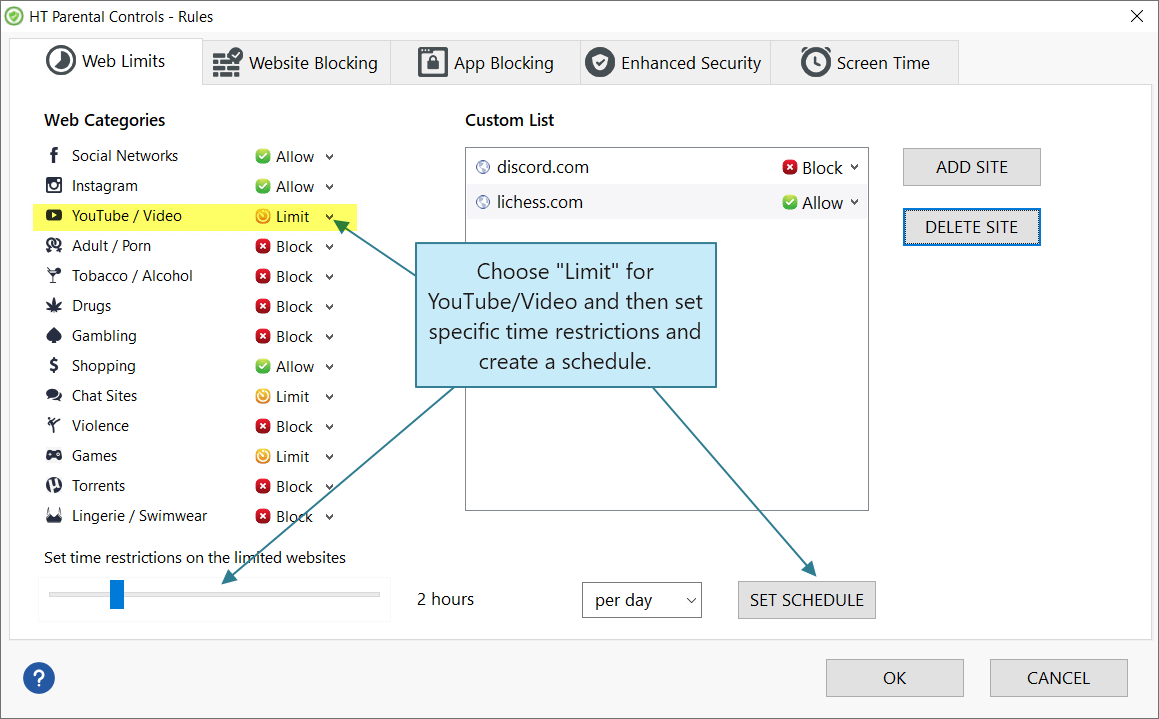 Don't waste time on YouTube or other sites. Get our software now!
How to Block YouTube Using the Hosts File
The hosts file is a service file of Windows. By changing it, you can block access to certain sites.
Open Notepad.
Click "File > Open" and browse to "C:\windows\system32\drivers\etc\".
Change the file extension from Text Documents (*.txt) to All Files (*.*) to see the hosts file and open the file named "hosts".
Under "127.0.0.1 localhost ::1 localhost" , press enter to create a new line.
Type "127.0.0.1 youtube.com" without the quote marks (as in the screenshot).
Close and save the file.
If Notepad does not allow saving the file without an extension, save it as suggested. Then rename the file in Windows Explorer to delete the extension and replace the existing file with yours.

Benefits of Using Blocking Software
To block YouTube and other sites on your computer—to avoid time-wasters, protect your child online, or improve your team productivity—use our software. It helps you block distractions and lets you restrict users of all ages from seeing content you don't want them to see.
HT Parental Controls and HT Work Focus are comprehensive solutions for you, your family, or your team.
Test the program with a 15-day free trial!