Content Filter
Websites that contain unacceptable or dangerous content are growing day by day. This includes pornography and false adverts used to steal personal details. They can be quite unsafe and detrimental. Such sites are especially dangerous for children who, in their innocence and curiosity, are prone to watch whatever is available. Don't forget it can also be a source of cyberbullying. As a parent, it is crucial to protect your child on the Internet as you would in your daily lives.
Content Filter is software that allows controlling or preventing unsolicited web pages from appearing on your computer. HT Parent Controls can protect your child from dangerous content. Just set up the content filter by choosing the sites you want to conceal from your child. HT Parental Controls is the best content filter for parents.
Read about HT Parental Controls
How to Filter Content
Download and install HT Parental Controls on your child's computer.
Open the Website Blocking tab and select the website categories you want to block.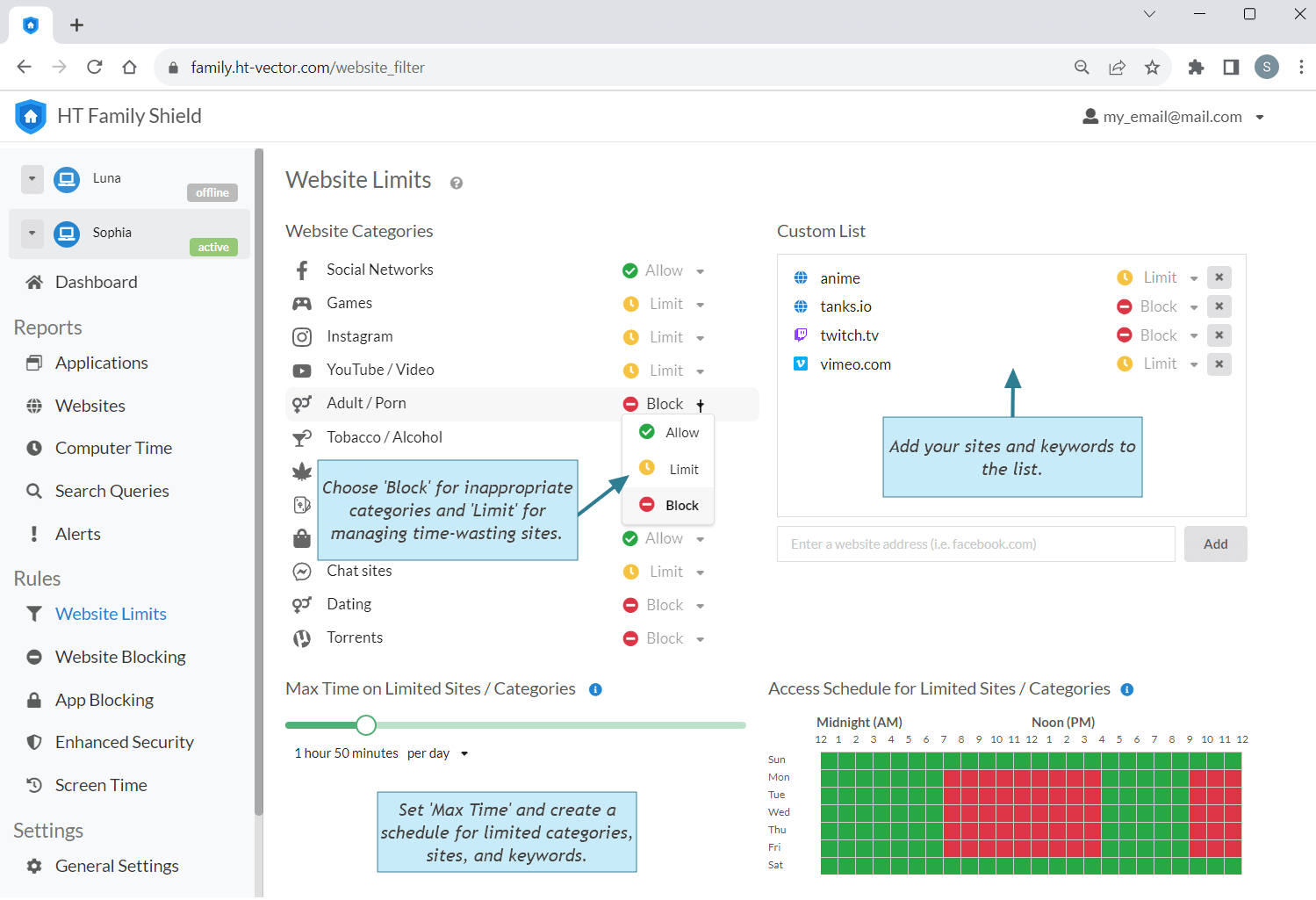 Our content filter can block those website categories: Adult/Pornography, Tobacco / Alcohol, Drugs, Gambling, Shopping, Chat sites, and Violence. Each category contains hundreds of sites and keywords related to it.
The software ensures that you can block websites and URLs, website categories, website keywords and filter content at your discretion. All languages and browsers are supported. The content filter is also compatible with most of the world's search engines. Your child will have maximum protection against inappropriate or dangerous content.
How to Block Websites by Keywords or URLs
Constantly monitoring a child every single minute they are online is impossible. To avoid manually controlling what they watch, why not block all questionable sites with keywords that contain words like "sex", "drugs" or with URLs like "YouTube", "Facebook.com", etc.?
Specify keywords and phrases which, when detected in a webpage, will be automatically blocked.
Open HT Parental Controls and click Website Blocking.
Click the Add button near the Banned Websites list.
Enter the URL or the keyword you want to block. Then click OK.
The URL or keyword will appear in the Banned Websites list.
Each time your child clicks onto a page with the banned URL or keyword, they get a white page on their screen.
HT Parental Controls is strongly protected from bypassing. The hide mode makes it virtually impossible to detect the software from the menu. The password provides access to the software only for the user who installed the software. Deletion can just be done when the password is provided. Most people have no idea that the program is continually running in the background.
In simple terms, it is only the person with the parental authority and password that has the capacity to access or delete the content filter. In most cases, HT Parental Controls operates without the user being aware of it.
Content Filter Features
Besides the content filter, HT Parental Controls contains a full arrange of monitoring features. Monitoring child's computer activities is very important for their own security. By using HT Parental Controls, parents will be able to track and monitor their computer activity. The software tracks and records websites visited, applications run, search queries and screenshots.
Filtering Features
Filter content by categories
Block websites by keywords and URLs
Block HTTPS pages
Block all websites except those whitelisted
Block apps
Monitoring Features
Websites Visited
Applications Launched
Search Queries
Screenshots
Protection
Password protected
Uninstallation and accessing protection
Disable Windows features
Protecting your child online is a must. Do everything in your power to protect your child from the dangers of the world of the Internet. Our content filter will handle all that for you with ease. HT Parental Controls reliably filters content, protecting your child and allowing you to attend to your other chores without having to hover around your child each time they sit at the computer.