How to Block Games
Many parents are looking for ways to block games and free up time for more useful activities. The best way how to do it is to use special software such as HT Parental Controls that lets you block games very efficiently and has many other features.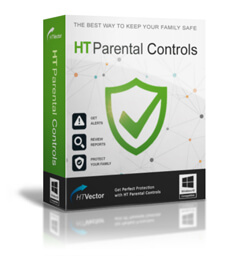 HT Parental Controls
With HT Parental Controls you can block any game, for example, World of Warcraft Wow and World of Tanks. You can block online and offline games, as well as games that can be played in a browser. The software is easy to use and allows you to manage your computer in a few clicks. It is compatible with Windows 10, 8, 7, XP, and supports all versions of browsers - Google Chrome, Firefox, Microsoft Edge, and Opera.
Read about HT Parental Controls
How to Block Online and Offline Games Installed on Computer
If a game was installed on the computer, it does not matter whether it requires access to the Internet or not. You can block it by doing the following:
Download HT Parental Controls and install it on your child's computer.
Click Application Blocking.
Click the Add button and select the game you want to block from the list or click Browse to find its location on the computer.
For example, world-of-tanks.exe, super-mario.exe, etc.
Add all games and apps you want to disable.
Now selected games are reliably blocked and cannot be accessed by your users.
Alternative Method
Download HT Parental Controls and install it on your child's computer.
Open the game you want to block.
Find it in the Launched Applications log.
Select it and click Block app.
Note!
If you wish to temporarily unblock the games, open HT Parental Control and click the
Stop
Button.
How to Block Browser Online Games
To block games that your children play in a browser, do the following:
Download HT Parental Controls and install it on your child's computer.
Click Website Blocking.
Click the Add button and enter the name of the browser online game or its URL.
For example, URLs - freeonlinegames.com, games.yahoo.com, bigfishgames.com, facebook.com/games/, etc.
Names of games - RuneScape, The Lost Titans, City of Steam.
Note!
Add the keywords
game
,
games
and
online games
, to block all pages that contain them.
What will happen when your child tries opening a website with the banned games or launching the game on the computer? The web page will be blank, and the app will not be run. The child can continue to try, but the result will be the same. Attempts to reinstall the game, to change its folder or a browser will give nothing. Even if your child has administrator rights, it will not stop the program. Moreover, HT Parental Controls will provide you a detailed report as to when and what your children try accessing.
HT Parental Controls Gives You Many Opportunities
HT Parental Controls can be customized for different users in different ways and allows you to block or limit your children's access to other harmful computer activities. It lets you control all your kid's activity and internet usage. With HT Parental Controls, you can:
Block Games
Block online and offline games, browser games, and games installed on a computer.
Block or Limit Social Networks
Facebook, Twitter, and any other social networks.
Limit Time on the Computer
Set up a schedule when your child can access the computer
Block Websites in All Browsers
Porn, Gambling, Drugs, Shopping, Chats, etc.
Block All Websites except White List
Make your list of allowed/trusted sites and block any others.
Monitor Computer Activities
Track your children's computer activities and get emails with logs.
The program is easy to use and does not require any knowledge. All actions can be done with a few clicks. Even so, it is impossible to bypass and will work reliably. HT Parental Controls helps you to control access to games, block online games, social media sites, and age-inappropriate internet content. Trust HT Parental Controls to bring order and manage to your child's computer time. Try a 15-day trial version.