How to Block Games on Your Child's Computer
Parents are looking for ways to block games and free up time for useful activities. The best way is to use software like HT Parental Controls. It lets you block games efficiently, and it has many other features.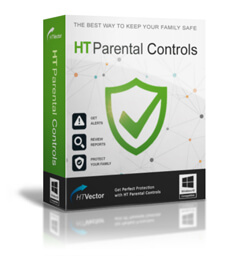 With a few clicks in HT Parental Controls, you can block online games, offline games, and browser games, and manage how the computer can be used. The app supports all versions of popular browsers like these:Google Chrome, Microsoft Edge, IE, Firefox, Opera, and Brave.
Read about HT Parental Controls
How to Block Browser Online Games or Browser Games
To block games that your children play in a browser, do this:
Download HT Parental Controls and install it on your child's computer.
Click Website Blocking.
Сlick opposite Games to change its status to Block on the Banned Categories to block all games. list.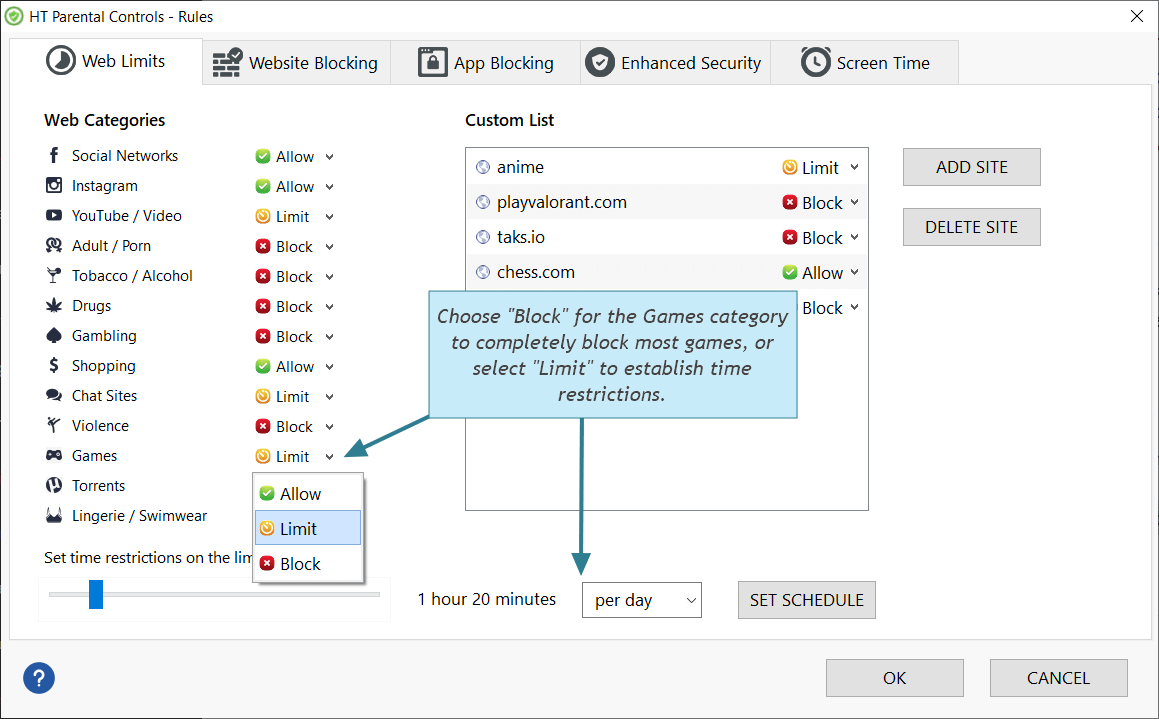 Note! To block one game or some rare game, add its URL to the Blacklist.
How to Block Online and Offline Games Installed on the Computer
If a game is installed on the computer, it does not matter if the game needs Internet access. To block such games, do this:
Download HT Parental Controls and install it on your child's computer.
Tap Application Blocking.
Click the Add button and select the game you want to block from the list which appears, or click Browse to select its executable file installed on the computer.
Add all games and apps you want to disable.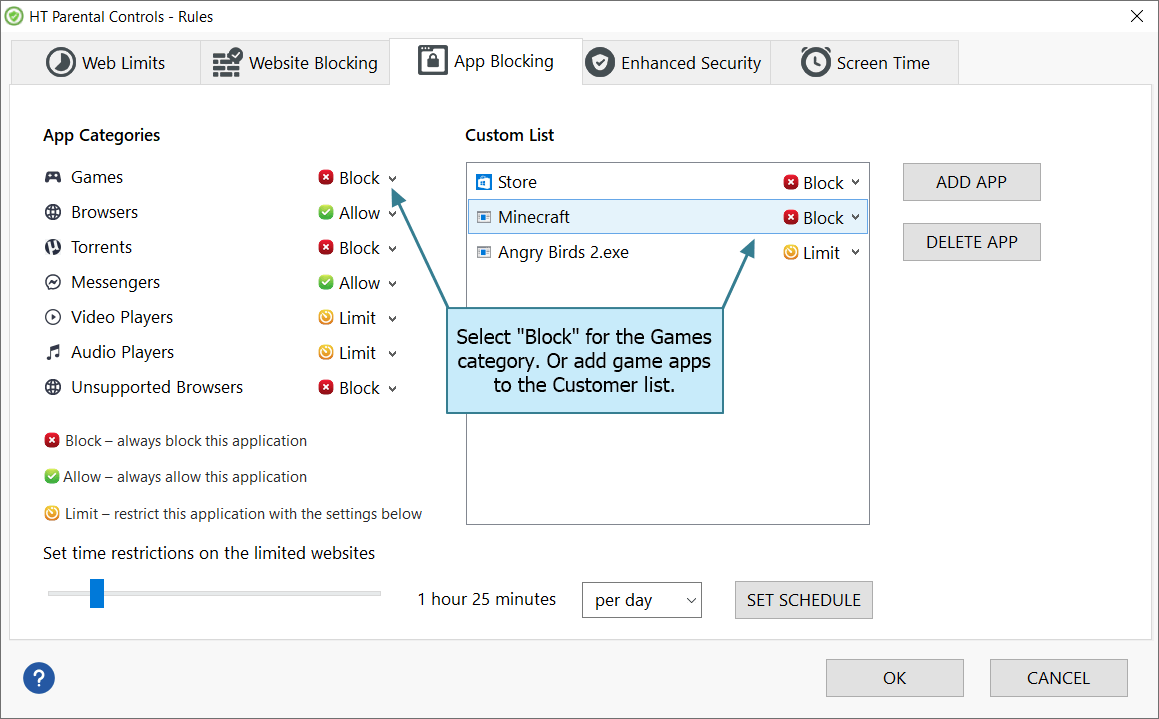 Note! If you don't want to block a game completely, but only limit the time your child spends playing it, click the app on your list and select Limit. Then specify Maximum Time Allowed and set up a Schedule if you want.
When your child tries to open a banned website to play games or launch a game installed on the computer, the web page will be blank, and the app will not run. Your child can reinstall the game, change its folder, or use a different browser, but it will not help. Even if your child has administrator rights, that will not stop the program. Moreover, HT Parental Controls gives detailed reports of all your child's computer activities, so you can detect new threats or time-wasters and block them too.
Note! Most children will try other ways to play their favorite games or find new ones. As a parent, it is important to review logs and block additional apps, sites, and keywords. Parental control software works best when you give it your attention.
How To Block Games More Simply
There is an even simpler way to block games. HT Parental Controls records logs of all launched applications and visited websites, and gives you detailed statistics about each of them. You can review the logs and block games directly from them.
Click Applications or Websites under Reports to view all recorded launched applications or visited websites.
Find the game in the logs, and click it to select it.
Then click the Block app or Block website button.
Note! If you wish to disable a ban temporarily, open HT Parental Control and click on top to change the program status to inactive. The color changes to red.
HT Parental Controls Gives You Other Options
You can customize HT Parental Controls for different users in different ways. It allows you to block or limit access to other harmful computer activities. The app lets you control all of your kid's computer activities and internet usage. With HT Parental Controls, you can:
Block Games
Block online and offline games, browser games, and games installed on the computer.
Block or Limit Social Networks
Facebook, Twitter, and any other social networks.
Limit the Time Spent on the Computer
Set up a schedule for when your child can access the computer.
Block Inappropriate Websites
Porn, Gambling, Drugs, Shopping, Chats, etc.
Block All Websites Except Those You Allow
Make a Whitelist of sites you allow and block any others.
Monitor All Computer Activities
Track your child's computer activities and get emails with logs.
HT Parental Controls is easy to use and strongly protected from efforts to bypass it. All actions can be done with a few clicks. The app will help you control access to games and block online games, social media sites, and age-inappropriate internet content. Trust HT Parental Controls to bring order to your child's computer.
Get a 14-day free trial—no credit card required.