How to Block a Website on Windows 7–Windows 11
There are many reasons why people search for how to block a website. Parents want to prevent their children from accessing sites with inappropriate content. For employers, blocking time-wasting websites is an excellent way to increase productivity. Whatever the case, let us show you how to block any website effortlessly with just a few clicks on Windows PC. For example, block YouTube easily and reliably.
How to Block a Website with a Website Blocker
The best way is to use special software. HT Work Focus and HT Parental Controls let you block any website reliably and easily in all popular browsers and have many other options to manage computer use.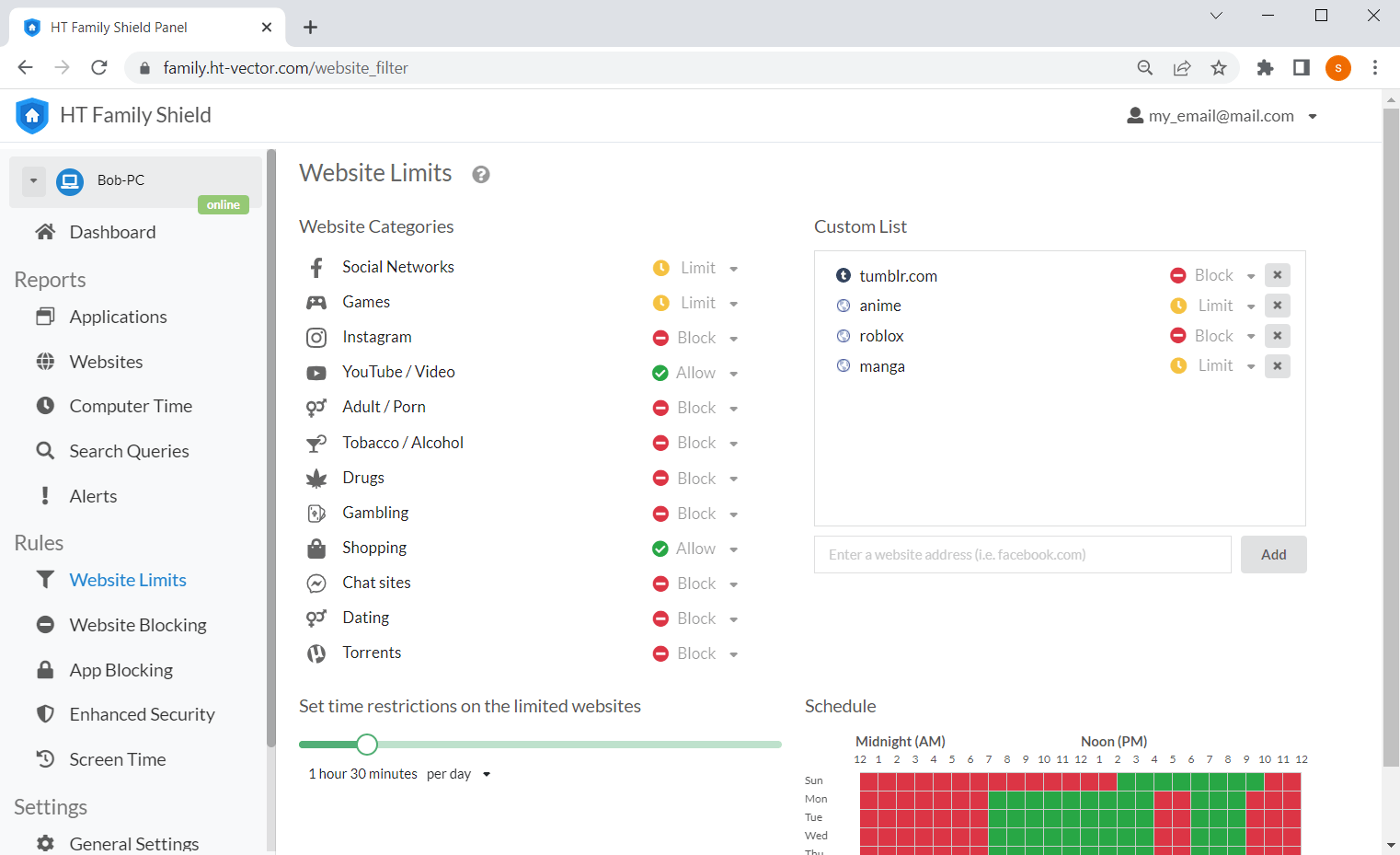 Instead of Blocking Websites Completely, You Can Limit the Time on Them
Click Website Limiting.
Add websites you want to limit.
Specify Maximum Time Allowed and/or Schedule for the limited websites.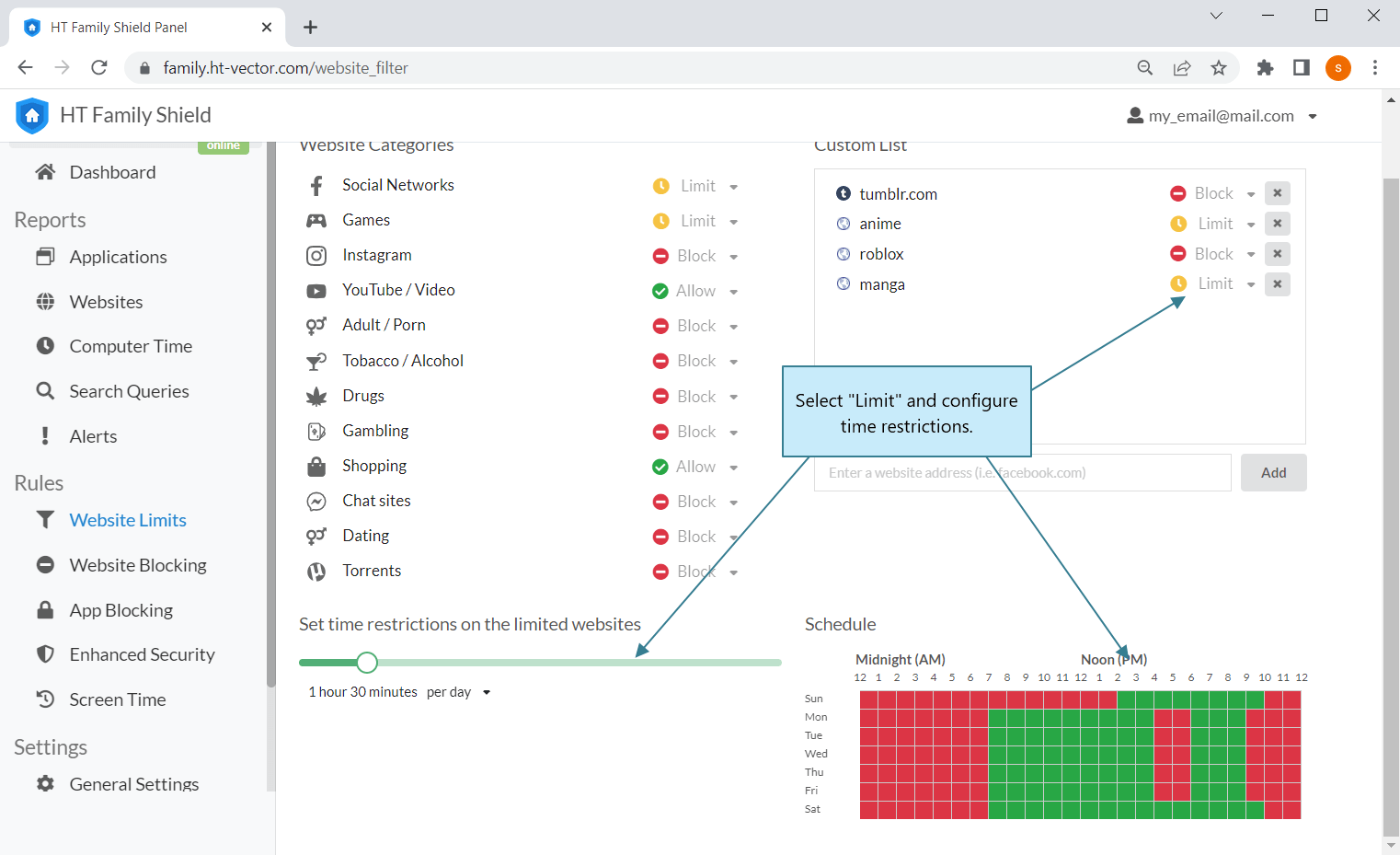 HT Work Focus and HT Parental Controls are easy-to-use and effective software that allows you to restrict user activity and internet usage. With the software, you can:
Block websites on all top browsers
Block websites on Chrome, Internet Explorer, Microsoft Edge, Firefox, Brave, and Opera with a few clicks.
Block certain websites by URLs and keywords
A flexible system will allow you to block sites with different approaches.
Block website categories
Block Porn, Gambling, Drugs, Shopping, Chats, etc. Block websites in up to 10 categories.
Disable any application
Block games, instant messengers, browsers, programs, and so on.
Limit time on websites
Restrict the time that users can spend on certain websites
Track computer activities
Receive logs of visited web sites, launched applications, and more.
The software is compatible with all Windows versions from Windows 7 to Windows 11.
How to Block a Website by Using the Hosts File
Open the Hosts file C:\WINNT\system32\drivers\etc\hosts with Notepad or another plain text editor.
Find the line 127.0.0.1 localhost.
To block a website, add its URL under the line.
For example, to block YouTube, add 127.0.0.1 youtube.com under t127.0.0.1 localhost.
Save the Hosts file and restart your computer to apply the changes.

Note! Make a backup of the Hosts file and put it somewhere safe.
How to Block a Website on Internet Explorer
Open Internet Explorer and go to Tools > Internet Options.
Open the Security tab and then tap the Restricted sites icon.
Click the Sites button under the icon.
Type the address of the website you want to block in the box, for example, www.youtube.com and click Add.
Click Close and OK in all other windows.
Note! The banned website will be available in other browsers.
How to Block a Website Despite Proxy Servers
The simplest and most common way to ignore your restrictions and access blocked websites is to use proxy server sites. Unfortunately, the Hosts file and the Internet Explorer settings can be easily bypassed in this way. These methods are not universal and may not be appropriate for your computer configuration or browser.
To block any website in spite of proxy servers, use our professional blocking software. HT Work Focus and HT Parental Controls help you block or limit any website reliably with a few clicks, saving your time and efforts. There is no way your children or employees will be able to override your limits. Browser type and Windows version make no difference. Test the program with a 15-day free trial!