How to Whitelist Websites and Block All Others
Instead of putting effort blocking new and new untrusted sites, whitelist websites to enjoy only allowed ones and block access to all others. Create your whitelist with approved websites and keywords with HT Family Shield. Each requested website is evaluated for presence on the whitelist, and unless found, the URL is blocked.
Install the program on your computer and create an account.
Log in to your Online Family Dashboard in your browser.
Click Website Blocking.
Add trusted websites to the Whitelist and select Allow only whitelisted websites.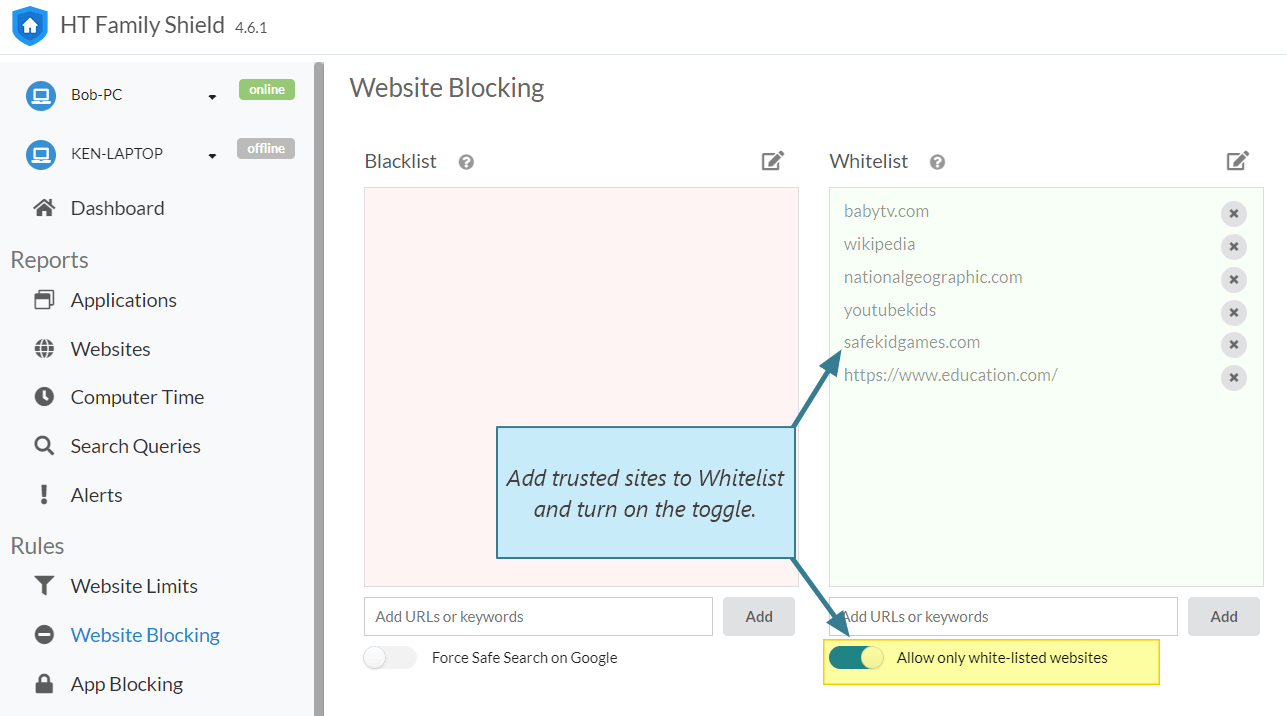 Now your users can get access to only websites those whitelisted. All other sites (social media platforms, online games, blogs, forums) will be blocked.
You can modify your whitelist and other rules for computer use whenever you like via the online dashboard. Manage your kids' study and free time on the computer without useless Internet surfing, even if you are far from home.
Extra Benefits of HT Family Shield
HT Family Shield helps you prevent wasting time in front of the PC, harmful information, and interactions with strangers. In addition to whitelisting websites, the program contains a lot of options to protect your child online and manage their computer use.
Mothers and fathers can count on their children cannot circumvent the restrictions. The high-level protection is guaranteed. Even the most curious and knowledgeable young users cannot get around the bans.
HT Family Shield is an effective program for parental control. The website blocking option is a must for appropriate time management, kids' protection from low-quality content and useless programs that take up much child's time. Parents can limit access to any websites, having allowed only those platforms that are inoffensive and helpful for their children. The website blocking option is switched on with a few clicks on the Online Family Dashboard
Decide which websites and apps should be under restrictions and which ones are approved for use. Choose HT Family Shield to whitelist websites for having powerful protection against unacceptable and destructive contain for your users and your peace in mind.