HT Parental Control
Install HT Parental Control and start protecting your family today!
Protect your child from harmful content
Monitor all PC activities
Filter websites and apps
Block or limit unwanted activities
Invisibly works in the background
+ All languages are supported
+ All popular browsers are supported
+ Updates/upgrades are free
+ 15-day money back guarantee
Protect, monitor & manage your children's computer activity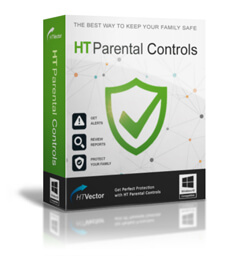 HT Parental Control is the best way to protect your child against any online threats. Parental Control combines monitoring with powerful filters that protect children from abusive websites and ensure their safety. It allows you to manage any activity by blocking or limiting the sites and applications you wish. Adult sites, games, chats, social networks and much more can be blocked or limited depending on your needs.
The program records everything children are doing on the computer and brings you the reports via email. Monitoring is invisible and includes websites, applications, screenshots and other computer activity. Our parental control software will make the Internet and computer safe for your child to use!
Parental Control - Features
Block Adult Content
Parental Control includes a powerful Internet filter which guarantees a safe Internet for your child. It blocks pornography and other inappropriate content in up to 10 predefined categories scanning each page in any popular browser. You can also block all websites except your whitelist.
Block & Limit Websites
Parental Control allows you to block or limit certain website by URLs and keywords. Just add a website address to the list and our Internet filter will, depending on your preferences, block or limit it. Blocking all sites except your White List is also available. Read how to block Facebook
Control Apps & Games
Parental Control tracks all applications on your children's computer. The log contains the time the application was launched and how long it was used. Besides monitoring, it allows you to block any programs, games or chats. Just choose the applications that you wish to block or control access to.
Monitor Websites
Monitor all visited websites. HT Parental Control records websites, shows you charts and sequence. It is the best way to see what websites your children have been viewing on the Internet and how long he spent on each. The program supports all versions of popular browsers.
Screenshot Capturing
Parental Control captures screenshots at intervals defined by you. You get not only a list of sites and applications but also a visual representation so you can better understand how your child behaves in the virtual world.
Emailed Reports
Parental Control automatically sends the log reports to your email. You are able to see what your children are doing on the computer from any place where you could check your email. The ability to view reports remotely makes monitoring easier and faster.
Get Started in a Few Minutes

2. Configure
Easily set filters to block/limit unwanted activities and disable threats.

3. Protect
Powerful filters automatically protect your child from harmful content.
Benefits
Multiuser
Parental Control can monitor and restrict all users on a computer. Even if your child has administrative rights, it's not a problem. All features can be customized for different users.
Program Invisibility
HT Parental Control starts automatically monitoring computer activity immediately after installation. The software is invisible to users as it works silently in the background.
Password Protection
Access to Parental Control is password protected. Only the person who knows the special hotkey and password can access the program.
Start protecting your family today!