How to Block Social Networking Sites
Social media has become the most visited and used websites. Many people do not realize how much time they waste on them. It can distract office staff from their work and children may spend hours online while forgetting about other activities.
Blocking social networks can increase your company's productivity by removing distractions from the workplace. It can help parents redirect their children toward study or reduce computer addiction. HT Employee Monitor and HT Parental Controls provide easy ways to block social media sites on your computer. You can block them completely or temporarily, set up a schedule for them or limit the time allowed to them. It's very easy and can be done with a few clicks.
How to Block Social Media Sites Completely
Download and install the software.
Click Website Blocking.
Check unwanted websites or add your website. Click Add near the Banned Websites list and enter the URL or the name of social network site you want to block.
Apply your settings.
In addition to blocking sites by URLs, the program gives a list of the website categories you may wish to block. It is quite simple - you only need to click and confirm which kind of sites you want to restrict.
How to Block All Social Networking Sites
Download this txt file with 45 addresses of social networking sites all over the world.

Import it to the program. To import, right click on the Banned Websites list and select Import list. Then find the txt file location on the computer and click Open.
Now all listed sites are completely blocked and cannot be accessed from any browser application on the computer. The software can block all kinds of websites, whether https or not.
How to Block Social Networking Sites Temporarily
Instead of blocking sites completely, you can block social media sites temporarily. Limiting time spent on social media is usually the optimal solution as it doesn't affect your employees' and children's motivation but allows them to take a break from work or study.
Download the software and install it on your computer.
Open it and click Website Limiting.
Enter the URLs or names of social networking sites you want to limit.
Click on them and select Limit.
Specify how much time a day users can spend on sites.
Click Apply.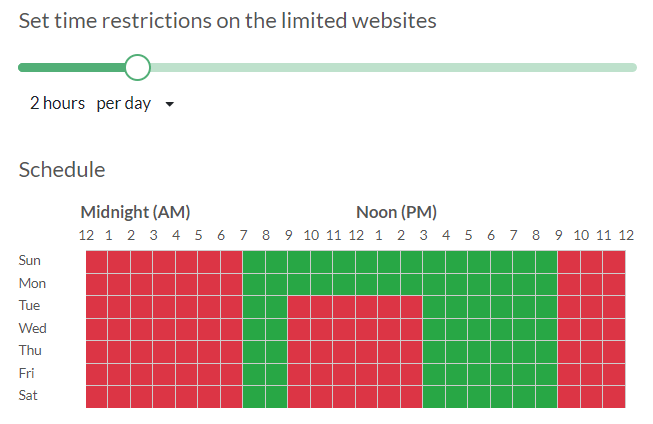 Using the Schedule, you can specify when access to the listed sites is enabled or disabled.
The software is reliably protected from bypassing. It also can be hidden so users cannot identify it.
The program can also keep statistics - daily, weekly or customer selected periods - on how much time a user spent on each visited website and launched applications. This helps determine time-wasting activities and prevent them in the future.
Our software can help you with many tasks
Block social networking and other sites
Block websites at certain times
Limit time on certain websites
Block all websites except a few
Block games and applications
Monitor websites and time spent on them
Monitor apps and time spent on them
Monitor time spent on a computer
Get email report with logs
All browsers are supported
With our Parental Control or Employee Monitor software, you easily block any social networking site or allow access during breaks while keeping it within the optimal limits.